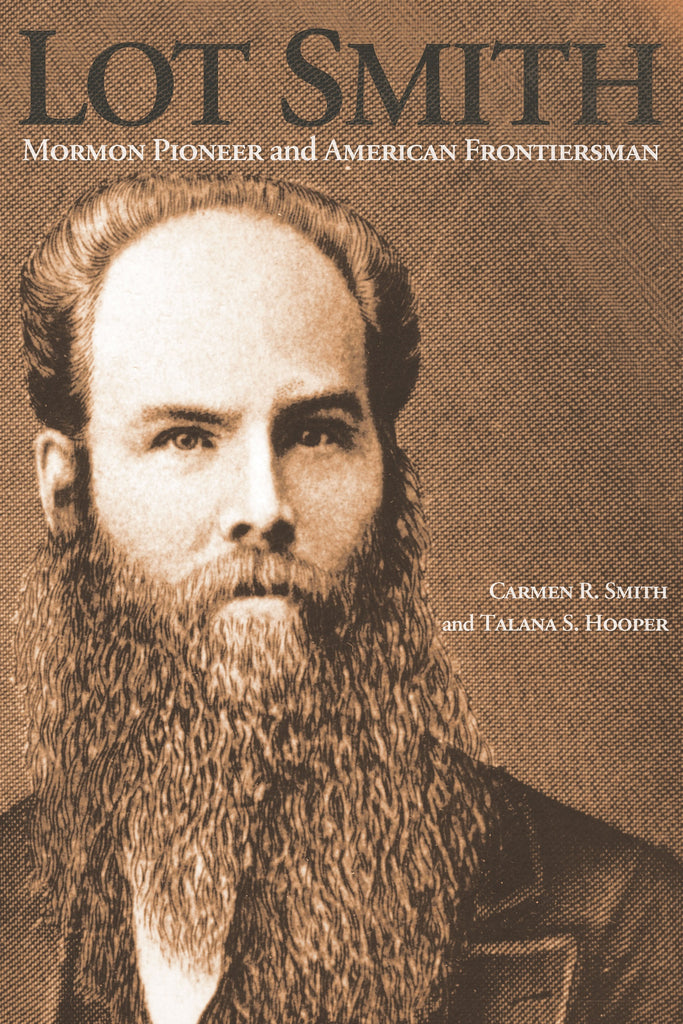 Lot Smith: Mormon Pioneer and American Frontiersman
$28.95
by Carmen R. Smith and Talana S. Hooper
---
"A fascinating book worthy of a truly fascinating nineteenth-century frontiersman." 

—Gene A. Sessions

"A fascinating read, methodically detailing the life of a man who ... played an absolutely integral role in the early church and the settlement of the Western United States."

— Deseret News

"

This intricate work is carefully documented with scores of primary sources . . . and tells a riveting story of the good, bad, and ugly in the life of Lot Smith."

 —Journal of Mormon History
---
Available in ebook for Kindle, Nook, Kobo, Google Play, and Apple.
---
Also available through Amazon and Deseret Book.
---
Download a free sample preview.
---
Book Description:
Lot Smith: Mormon Pioneer and American Frontiersman is the comprehensive biography of Utah's 1857 war hero and one of Arizona's early settlement leaders. With over fifty years of combined research, mother and daughter co-authors Carmen R. Smith and Talana S. Hooper take on many of the myths and legends surrounding this lesser-known but significant historical figure within Mormonism.
Lot Smith recounts the Mormon frontiersman's adventures in the Mormon Battalion, the hazardous rescue of the Willie and Martin handcart companies, the Utah War, and the Mormon colonization of the Arizona Territory. True stories of tense relations with the Navajo and Hopi tribes, Mormon flight into Mexico during the US government's anti-polygamy crusades, narrow escapes from bandits and law enforcers, and even Western-style shoot-outs place Lot Smith: Mormon Pioneer and American Frontiersman into both Western Americana literature and Mormon biographical history.
---
AuthorCast Interview with the Author:
---
Comprehensive Table of Contents:
.
Introduction
1. Mormon Battalion
2. Minute Men
3. Utah War
4. Escape Capture
5. Peace
6. Civil War Captain
7. British Mission
8. Last Utah Years
9. Journey to Arizona
10. Arizona Stake President
11. Sunset's Succor
12. Circle S Ranch
13. A Wanted Man
14. Resettlement of United Order
15. To Yavapai County
16. Under Arrest
17. Marked Man
Epilogue: Reinterment
Appendix A: Utah War Participants With Lot Smith
Appendix B: Members Of Lot Smith's 1862 Civil War Company
Appendix C: Wives and Children of Lot Smith
Appendix D: Lot Smith Timeline
Bibliography
Index
---
Q&A with the Author:
.
Q: Give us some background into this book. How did it come together?
A: My grandfather James M. "Jim" Smith was the youngest of Lot Smith's fifty-two children. Since Lot Smith was killed by a renegade Navajo six months before my grandfather's birth, my Grandpa James sought his entire life to learn all he could about the father he never knew. He soon discovered that his father had lived a life which generated myths and legends. He obtained many firsthand accounts which were most often tinged with admiration and love—yet not all were complimentary. Jim Smith's oldest son, my father Omer, recorded the stories and enlisted the help of my mother Carmen to more completely research Lot Smith's history in libraries around the country. When Omer unexpectedly passed, Carmen continued to research, interview, and compile for another thirty years. However, by her mid-nineties, her eyesight had failed enough so that even with her magnifying glass she could no longer see her computer screen well enough to continue. I knew that Lot Smith's life story was too compelling and valuable to be lost. With her blessing and help (while she was still able), I began working to bring the biography together for publication.
Q: For readers who are unfamiliar with Lot Smith, can you give us a basic background of who he was?
A: Lot Smith, a man with a fiery red beard and a temper to match it, experienced firsthand many of the significant events in the early history of The Church of Jesus Christ of Latter-day Saints. His life was one adventure after another. He joined the Mormon Battalion at the age of sixteen and participated in the California Gold Rush. The life lessons he learned during the Mormon Battalion prepared him for a life of service—many times grueling—for the Church and his fellowmen.
Smith continued his military career. His reputation of fearlessness became widely known as a member of the Minute Men Life Guards—the cavalry that defended the Latter-day Saints in the Rockies from Indians. He was a captain of the Life Guards who rescued the Willie and Martin Handcart Companies. Major Smith served a critical role in defending his fellow Saints from what seemed certain annihilation by the US Army by burning their supplies and wagons in the Utah War. For that act, he was hailed as a hero by the Saints, but indicted for treason in the US courts. After Smith fought in the Walker War, he was appointed as a captain in the US Army to guard telegraph lines and mail routes during the American Civil War. During that service, he and his men endured a harrowing, life-threatening chase after unknown Indians who had stolen two hundred horses. Readers will enjoy several interesting trips with Brigham Young when Smith served as an escort guard. Smith lastly served as Brigadier General in the Black Hawk War and then served a mission in the British Isles.
In 1876 Brigham Young called Smith to lead colonization in the Arizona Territory. Young charged Smith to establish the United Order and to befriend the Indian tribes. Both these directives brought more adventures as they struggled to secure a mere livelihood. Smith served as Arizona's first stake president, and his Sunset United Order provided a way station for others colonizing in New Mexico, Arizona, and Mexico. Smith also helped lead Church colonization in Mexico—another ordeal.
Smith was one of the most feared gunmen in Arizona. He several times drew his gun on men meaning harm but pulled the trigger only once. Besides defending his rights as a stockman, he vowed he would never be arrested for polygamy and narrowly escaped arrest many times. His untimely death came from a shot in the back by a renegade Navajo.
Q: Can you give us a scene from Lot Smith's life that you found particularly interesting?
A: It is difficult to choose just one scene from Lot Smith's life to share. I considered the incident when one of his men was accidentally shot during the Utah War or the rescue of the Martin Handcart Company. I remember the death-defying chase up the Snake River in the Civil War. And then I consider the time when he had a shootout with a man hired to kill him. All are incredible events! And yet, I choose simple episodes Smith shared with his sons.
While Smith lived in Arizona, the federal marshals increased their efforts to arrest any polygamists. Smith had four wives in Arizona, so he was a target. He was always on the alert and evaded arrest many times by riding a fast horse and carrying a fast gun. One time when Lot and his sons were shucking corn in the field, a marshal appeared some distance away. Smith told his boys to shock him up in the corn. When the officer rode up, the boys greeted him cordially. The officer never did figure out how Smith escaped the area!
On another occasion, Smith was traveling with his son Al in a wagon. Lot looked up the road to see a man on horseback and said to Al that it looked like a U.S. Marshal. Since Lot was convinced that no deceit could enter the Kingdom of God, he wanted all his posterity to be honest and truthful at all times—even in the face of danger. So when he saw the marshal, he told his son to stay in the wagon and not to lie, or he'd skin him alive. Lot took his gun and hid behind a bush. The officer approached and asked Al if he were Lot Smith's son. Al replied that he was. Then the officer asked where his father was. Al replied, "Right behind that bush beside you." The officer didn't look; he feared Smith's gun. He merely said, "Well, you tell him that I passed the time of day with him," and said good-bye.
Q: There are a lot of myths and legends that surround Lot Smith. Can you talk about a couple and set the record straight?
A: Several preposterous stories have been attributed to Lot Smith—probably because of his reputation as a rough character with a strong personality, and an expert gunman which caused people to fear him. One widespread myth was that he was involved in the Mountain Meadows Massacre. How could Smith, the hero of the Utah War, be in Wyoming and southern Utah at the same time? Yet the myth persisted, and newspapers printed at his death that he was involved in the massacre.
One of the most oft-repeated myths of Lot Smith was that he branded his wives. It was so widely believed that at the death of his wife Jane in 1912, people still speculated if she had been branded.
The myth followed Smith to Arizona. Children of his last wife, Diantha, were told that their mother had been branded. The real story of Smith "branding his wife" involved his second wife Jane after his first wife Lydia had left. While Lot and two of his friends were branding near his home in Farmington, Jane was preparing dinner for her husband and the guests. Jane needed eggs. She went out and spied some eggs in the manger where she couldn't reach without entering the corral. Jane knew that Lot's stallion chased and bit anyone but Lot, but the stallion seemed to be dozing in the far corner of the corral. She reasoned that she could sneak in unnoticed. However, the stallion was not as drowsy as she has assumed. He jerked up his head, shrieked, and charged Jane. Without dropping his branding iron, Lot jumped and ran between his wife and the stallion. When she ducked to go under the fence, he pushed her through with the branding iron. The men at the branding fire watched as Jane twisted to check her nice skirt that she wore for company. The branding iron had cooled enough that it didn't even scorch it. One of the men laughed and said, "That's one that won't get away from you; she's branded!"
Lot, who loved to entertain and enjoyed a sense of humor, was partially responsible for starting the myth. In church meetings after this incident, he arose to bear his sincere testimony. Along with recounting his blessings, he was heard to say on more than one occasion, "And anything I own, I brand—including my wife!"
Q: What do you hope readers will take away from reading this book?
A: Most of all, I want readers of the Lot Smith biography to enjoy the incredible and fascinating life of Lot Smith. His life was one thrilling adventure after another! Since his life entwined significant events in the early history of The Church of Jesus Christ of Latter-day Saints, I hope that readers get an up-close perspective of some of these events.
I hope readers learn through Lot's experiences that trials and hard circumstances can refine us. When Lot was in the Mormon Battalion, he experienced periods of no food, no water, no shoes, and scanty clothing. His compassion for others in similar situations was born. He was always generous to the poor and could never turn away anyone who was hungry even when food was scarce. It seems he often carried an extra pair of shoes to give away freely.
Lot's strong leadership in the colonization of the destitute Arizona Territory in the United Order was phenomenal. Through hard work and wise leadership, the colonists avoided starvation and established homes. I want readers to more fully realize and understand some of the sacrifices our forefathers made to settle the frontier land for future generations.
---
---
---
Praise for Lot Smith:
"An excellent and effective example of a 'life-and-times' biography, this history of the legendary Lot Smith as an imposing figure in the Mormon settlement of the West provides a fresh and very interesting retelling of that story. In the hands of two family members, the treatment is understandably friendly but remarkably thorough and complete. We follow Smith not only through his remarkable role as leader of the guerrilla force that harassed and delayed the U.S. Army during the Utah War but also his involvement in such other adventures as the Mormon Battalion, the Handcart Rescue, service in the Union Army, extensive involvement in polygamy, and an ambitious sortie into Navajo country that led to his death. This is a fascinating book worthy of a truly fascinating nineteenth-century frontiersman." —Gene A. Sessions, professor of history at Weber State University and author of Mormon Thunder: A Documentary History of Jedediah Morgan Grant
"Lot Smith: Mormon Pioneer and American Frontiersman proved to be a fascinating read, methodically detailing the life of a man who might not have been as well-known as some pioneers or frontiersmen but nevertheless played an absolutely integral role in the early church and the settlement of the Western United States." —Ryan D. Curtis, Deseret News
"

This intricate work is

carefully documented with scores of primary sources

. . . and tells a riveting story of the good, bad, and ugly in the life of Lot Smith." —Fred Woods, Journal of Mormon History
---
About the Authors:
Carmen R. Smith (1917–2018) was a native of the Gila Valley in Arizona. She attended Gila Junior College, Woodbury Business College, Brigham Young University, and served an LDS Church mission to Mexico. She married Omer Smith, a grandson of Lot Smith. Her report of the rediscovery of the Mormon Battalion's Lost Well in 1978 was awarded the Utah Historical Quarterly Editor's Choice.
Talana S. Hooper is a native of Arizona's Gila Valley. She attended both Eastern Arizona College and Arizona State University. She compiled and edited A Century in Central, 1883–1983 and has published numerous family histories. She and her husband Steve have six children and twenty-six grandchildren.
---
More information:
302 pages
ISBN 978-1-58958-692-5 (paperback); 978-1-58958-720-5 (hardcover)
Published November 2018