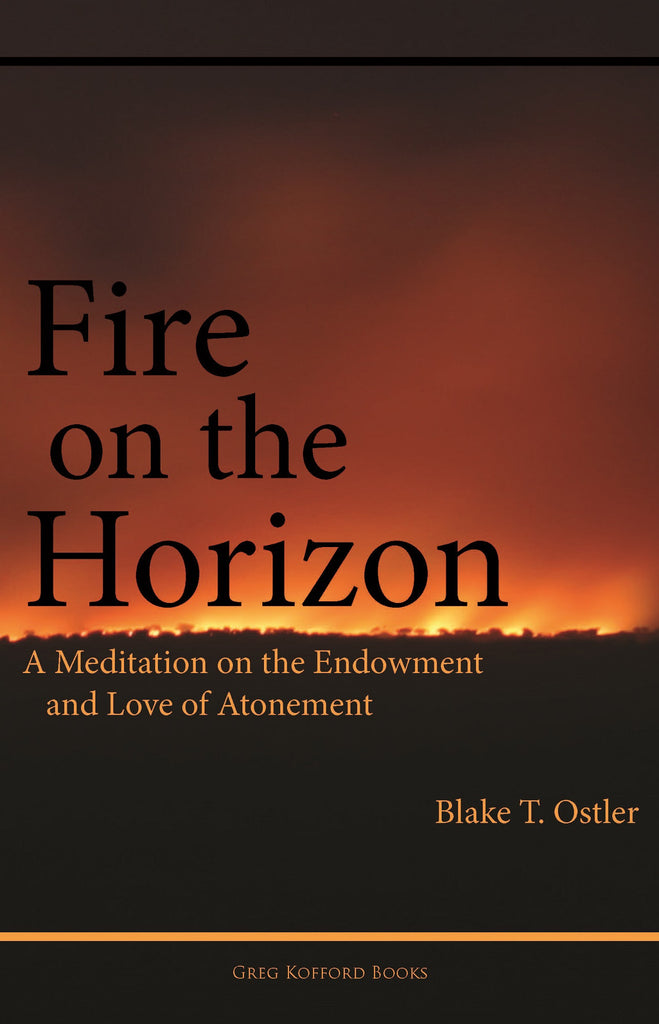 Fire on the Horizon: A Meditation on the Endowment and Love of Atonement
$17.95
by
Blake T. Ostler
---
"Urgent, sharp, and intimate, it's Ostler at his best." — Adam S. Miller
"Demonstrates that Mormonism can, and indeed does, offer profound nourishment for reflective minds and soul-satisfying insights for thoughtful believers." — Daniel C. Peterson
---
Available in ebook for Kindle, Nook, Kobo, Google Play, and Apple.
---
Also available through Amazon.
---
Book Description:
Blake Ostler, author of the groundbreaking 
Exploring Mormon Thought
series, explores two of the most important and central aspects of Mormon theology and practice: the Atonement and the temple endowment. Utilizing observations from Søren Kierkegaard, Martin Buber, and others, Ostler offers further insights on what it means to become alienated from God and to once again have at-one-ment with Him.
---
Comprehensive Table of Contents:
.
Observations on the Horizon
Part One. Atonement and the Sacred Thou at the Center of Joseph Smith's Revelations
The Invitation That Calls to Us
An Ethic of Religious Discourse
The Language of Ritual Viewed From Within
The Divine Risk of Love
The Peer Relationship as Christology
Zion as the Sacred Society Reflecting Divine Love
Human Sacrifice, Plural Marriage, and the I–Thou Relation
Conclusion
Part Two. The Heart of Atonement
The Heart of Atonement
We Are All Adam and Eve
The Cherubim's Sword
The Fruit of Our Mortal Lives
Ways of Being in the World
The Nature of Being in the World
Original Sin and the Human Condition
The Mirror of Judgment
The Poison of Sin and Atonement
The Atonement Heals the Broken Heart
Sacramental Re-member-ing as At-one-ment
Index
Scripture Index
---
---
Praise for Fire on the Horizon:
"Fire on the Horizon distills decades of reading, argument, and reflection into one potent dose. Urgent, sharp, and intimate, it's Ostler at his best." — Adam S. Miller, author of Rube Goldberg Machines: Essays in Mormon Theology

"Blake Ostler has been one of the most stimulating, deep, and original thinkers in the Latter-day Saint community. This book continues and consolidates that status. His work demonstrates that Mormonism can, and indeed does, offer profound nourishment for reflective minds and soul-satisfying insights for thoughtful believers." — Daniel C. Peterson, editor of Interpreter: A Journal of Mormon Scripture
---
About the Author:
Blake T. Ostler
, a practicing attorney, is one of the premiere philosophical thinkers on Mormonism. He is the author of the multi-volume 
Exploring Mormon Thought
 series and has been published widely in journals such as 
Religious Studies
, 
International Journal for the Philosophy of Religion
, 
BYU Studies
, and 
Dialogue: A Journal of Mormon Thought
.
---
More Information:
Pages: 138
ISBN: 978-1-58958-553-9 (paperback)
Published June 2013