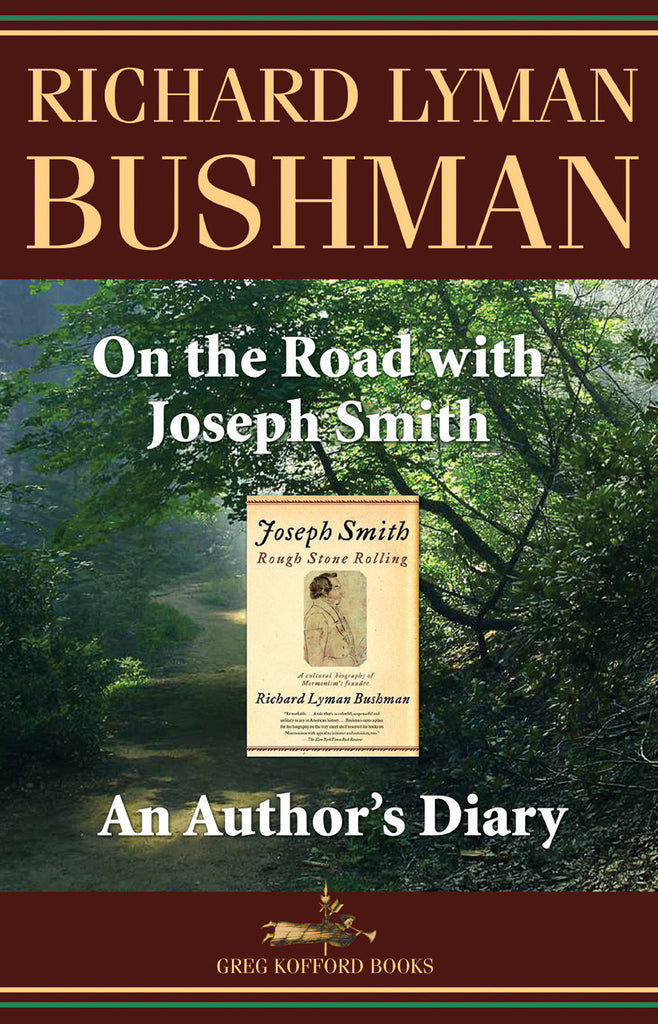 On the Road with Joseph Smith: An Author's Diary
$14.95
by
Richard Lyman Bushman
---
"Shows how much any historian lays on the line when he writes about Joseph Smith." — Deseret News
"Richard Bushman likewise comes to life, a man who is far from ordinary, a scholar devoted to his task and willing to take risks." — Association of Mormon Letters
---
Available in ebook for Kindle, Nook, Apple, Google Play, and Kobo.
---
Also available through Amazon.
---
Book Synopsis:
After living with Joseph Smith for seven years, biographer Richard Lyman Bushman went "on the road" for a year. After delivering the final proofs of his landmark study, 
Joseph Smith: Rough Stone Rolling
 to Knopf in July 2005, Bushman crisscrossed the country from coast to coast, delivering numerous addresses on Joseph Smith at scholarly conferences, academic symposia, and firesides. This startlingly candid memoir concludes eleven months later with an article written for Common-Place in August 2006.
     Bushman confesses to hope and humility, an unexpected numbness when he expected moments of triumph, and genuine apprehension as he awaits reviews. He frets at the polarization that dismissed the book as either too hard on Joseph Smith or too easy. He yields to a very human compulsion to check sales figures on amazon.com, but partway through the process stepped back with the recognition, "The book seems to be cutting its own path now, just as [I] hoped."
     For readers coming to grips with the ongoing puzzle of the Prophet and the troublesome dimensions of their own faith, Richard Bushman, a temple sealer and stake patriarch but also a prize-winning scholar, openly but not insistently presents himself as a believer. "I believe enough to take Joseph Smith seriously," he says. He draws comfort both from what he calls his "mantra" ("Today I will be a follower of Jesus Christ") and also from ongoing engagement with the intellectual challenges of explaining Joseph Smith.\
---
Comprehensive Table of Contents:
.
Introduction
The Diaries
Preparations: July–August 2005
On Tour: September–December 2005
End of the Run: January–May 2006
A Final Word
"The Balancing Act"
Index
---
---
Praise for On the Road with Joseph Smith:
"The diary is possibly unparalleled—an author of a recent book candidly dissecting his experiences with both Mormon and non-Mormon audiences . . . certainly deserves wider distribution—in part because it shows a talented historian laying open his vulnerabilities, and also because it shows how much any historian lays on the line when he writes about Joseph Smith." — Dennis Lythgoe, Deseret News

"By turns humorous and poignant, this behind-the-scenes look at Richard Bushman's public and private ruminations about Joseph Smith reveals a great deal—not only about the inner life of one of our greatest scholars, but about Mormonism at the dawn of the 21st century." — Jana Riess, co-author of Mormonism for Dummies

"The diaries are much more than simply a record of what Bushman calls 'pre-review jitters.' There are also some fascinating facts about the book's writing and its reception. In the end the diary is the record of a believer who wants to write a believers biography that speaks to both believer and unbeliever. It is also the diary of a man who realizes that neither audience is wholly comfortable with what he did." — Nate Oman, Times and Seasons.

"Writing about Joseph Smith is always a risk. As Bushman himself reflects, you run the risk of offending either the faithful believers or the enlightened skeptics, or perhaps even both. In my review of Rough Stone Rolling, I indicated my pleasure that Bushman elected to take a middle of the road approach through most of the book. In RSR, Joseph Smith comes alive in ways I'd never encountered before in two decades of Mormon studies. In On the Road Richard Bushman likewise comes to life, a man who is far from ordinary, a scholar devoted to his task and willing to take risks." — Jeffrey Needle, Association of Mormon Letters
---
About the Author:
Richard Lyman Bushman, Gouverneur Morris Professor of History, Emeritus, at Columbia University, grew up in Portland, Oregon, and earned his undergraduate and graduate degrees from Harvard University. He has also taught at Brigham Young University, Boston University, and the University of Delaware. He is the author of numerous books for which he has received several awards, including the Bancroft Prize, the Evans Biography Award, and the 2006 Best Book by the Mormon History Association. He and his wife, Claudia, live in New York City.
---
More Information:
140 pages
ISBN: 978-1-58958-102-9 (paperback)
Published May 2007