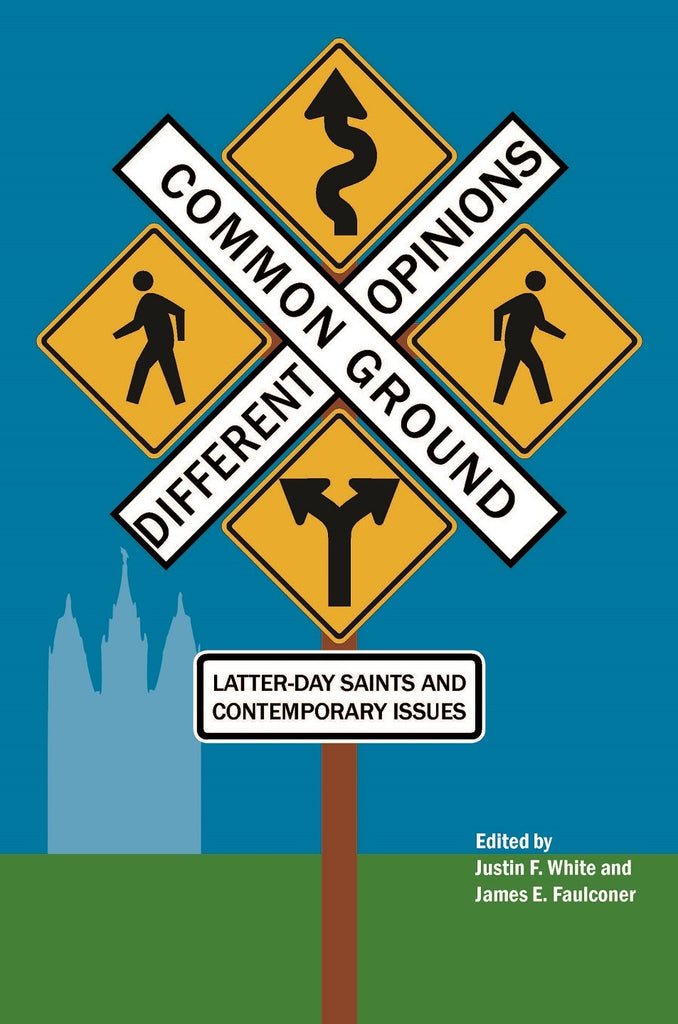 Common Ground—Different Opinions: Latter-day Saints and Contemporary Issues
$31.95
Edited by
Justin F. White
and
James E. Faulconer
---
"Provides models of faithful and diverse Latter-day Saints who remain united in the body of Christ."

— Neal A. Maxwell Institute for Religious Understanding, BYU
---
Available in ebook for Kindle, Nook, Kobo, Google Play, and Apple.
---
Also available through Amazon.
---
Book Description:
There are many hotly debated issues about which many people disagree, and where common ground is hard to find. From evolution to environmentalism, war and peace to political partisanship, stem cell research to same-sex marriage, how we think about controversial issues affects how we interact as Latter-day Saints.
     In this volume various Latter-day Saint authors address these and other issues from differing points of view. Though they differ on these tough questions, they have all found common ground in the gospel of Jesus Christ and the latter-day restoration. Their insights offer diverse points of view while demonstrating we can still love those with whom we disagree.
---
Comprehensive Table of Contents:
---
---
Praise for Common Ground—Different Opinions:
"[This book] provides models of faithful and diverse Latter-day Saints who remain united in the body of Christ. This collection clearly demonstrates that a variety of perspectives on a number of sensitive issues do in fact exist in the Church. . . . [T]he collection is successful in any case where it manages to give readers pause with regard to an issue they've been fond of debating, or convinces them to approach such conversations with greater charity and much more patience. It served as just such a reminder and encouragement to me, and for that reason above all, I recommend this book." — Blair Hodges, Maxwell Institute

"After all these conversations, do we actually find 'common ground' here? Is there some place or idea upon which these sometimes opposing views can come together and meet? Each author has ties to the Church of Jesus Christ of Latter-day Saints. Each author expresses herself or himself clearly, succinctly, confidently and courteously. They are one in community, but they are not one in opinion. And when those differing opinions are expressed thoughtfully—and received respectfully—as they are in Common Ground, the community is enriched and there is room for growth on all sides." — Laura Compton, Association for Mormon Letters
---
About the Editors:
Justin F. White is a graduate student in philosophy at the University of California, Riverside. He studied philosophy and English at Brigham Young University. His current research focuses on nineteenth- and twentieth-century European philosophy. He and his wife, Anna Snyder White, are the parents of three children.
James E. Faulconer is a professor of philosophy at Brigham Young University, associate director of the Wheatley Institution, and a former holder of the Richard L. Evans Chair for Religious Understanding.
---
More Information:
379 pages
ISBN 
978-1-58958-573-7 (paperback)
Published October 2013