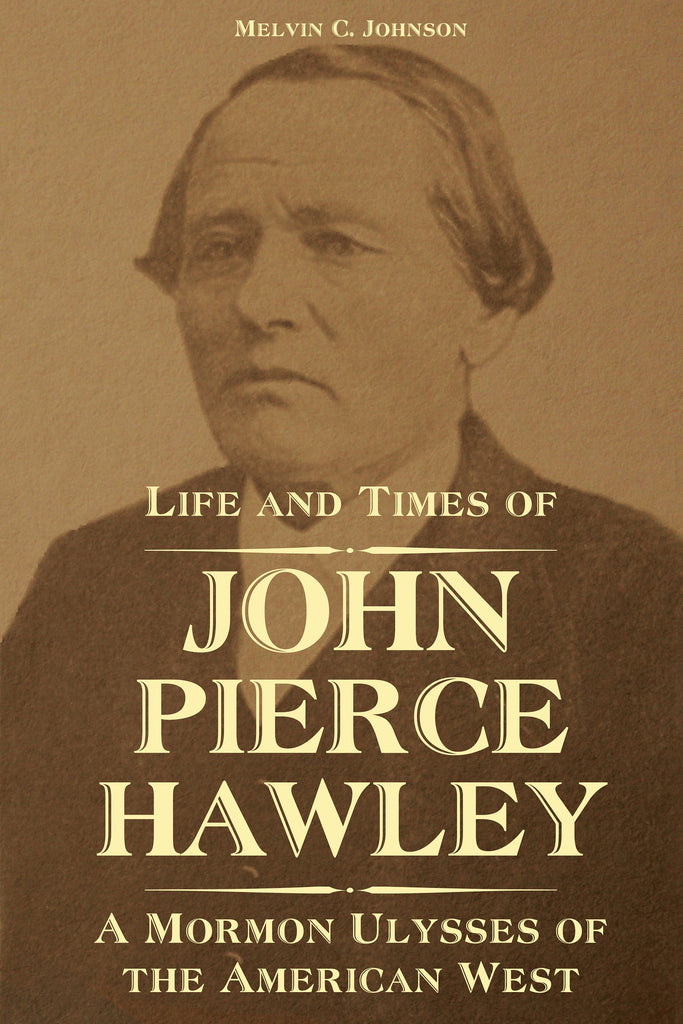 Life and Times of John Pierce Hawley: A Mormon Ulysses of the American West
$24.95
by 
Melvin C. Johnson
---
2020 Best Biography Award, John Whitmer Historical Association
---
"An essential read for those interested in studying the competing strands of the Mormon Restoration movement in mid-nineteenth-century frontier America." 

—Richard E. Bennett

"A marvelous record of an LDS everyman meandering through the Mormon West. . . . Fascinating and superbly researched."

 

—Todd M. Compton

"Through the biography of one man, Johnson introduces us to five different incarnations of the Latter Day Saint tradition.

"

 

—Christopher James Blythe

"A scope and sweep seldom matched in studies of the faith's origins."

—

Will Bagley
---
Available in ebook for Kindle, Nook, Kobo, Google Play, and Apple.
---
Also available through Amazon.
---
Download a free sample preview
---
Book Description:
Life and Times of John Pierce Hawley: A Mormon Ulysses of the American West narrates the wide-ranging life and times of John P. Hawley's search for and service to an authentic Mormon faith. Melvin C. Johnson has been researching Hawley's adventurous life along the American borderlands and frontier for three decades. Hawley was an active member of several Latter Day Restoration denominations in Missouri, Illinois, Iowa, Kansas, Wisconsin, Texas, the Indian Nations of Oklahoma, and Utah Territory from 1838 to 1909.
A Mormon Ulysses follows Hawley's adventures in the West growing up as a logger, woodworker, settler, church official and missionary. He helped build the first Mormon temple west of the Mississippi, battled the Comanches, was entangled in the horrors of the Mountain Meadows Massacre, and pioneered the Pine Valley community in southern Utah. Hawley's western odyssey is timely, worthy, and deserves to belong in the canon of American history and biography.
---
AuthorCast Interview with the Author:
---
Comprehensive Table of Contents:
.
Preface
Prologue: The Start of a Trek
1. On The Borderlands of America, 1826–1842
2. Wisconsin Territory to the Republic of Texas, 1843–1851
3. Mormon Mills, Texas to The Indian Nations, 1851–1856
4. Wagons West to Utah Territory, 1856
5. Welcome to Zion, 1856–1857
6. The Hawleys of Pine Valley, Part I
7. The Racial Divide and Theocracy in Greater Dixie
8. The Hawleys of Pine Valley, Part II
9. A Pine Valley Missionary to Iowa, 1868
10. Return to Utah and Conversion to the RLDS Church, 1868–1870
Epilogue: End of a Trek, 1870
Hawleys and Relatives Buried in Pine Valley
Appendix A: John Hawley, Letter to Joseph Smith III, June 12, 1884
Appendix B: Temple Lot Case
Appendix C: Chronology of John Pierce Hawley
Bibliography
Index
---
Q&A with the Author:
.
Q: Give us a little information about your background and how you came to become a historian of Mormonism and the American West.
A: I was born in Northern California and grew up in Carlsbad California where I graduated from high school. Renowned historian Will Bagley and I attended the same LDS seminary in Oceanside in the mornings before high school. I pursued degrees at Dixie College in St George Utah and Utah State University in Logan Utah. Then I served twelve years in the military as an airborne infantryman and legal administrator. After being discharged from the military, I attended Stephen F. Austin State University and graduated with a Masters in both history and English. I taught at several universities and colleges and retired from Angelina College in Texas. Halli Wren Johnson, my wife, and I live in Salt Lake City Utah, although we maintain strong connections to eastern Texas. Let me say I loved Dixie College (the only junior college in America, it seemed, that would accept me). I met historian Juanita Brooks there and had no idea who she was, or that the massacre at Mountain Meadows had occurred just thirty-five miles up Highway 18. I had no idea what the massacre at Mountain Meadows even was at the time!
I came to be fascinated by the intersection of Mormonism in the American West at Texas Forestry Museum, Lufkin, Texas. Local forest industries funded my research position in Forest and Mill Town history. During my research, I came across references to the Mormon Millers (sawmills owned and operated by Mormons) of the Texas Hill Country before the American Civil War. I created a Mormon Miller database and began inserting research notes as I came across them in my other pursuits. Eventually, I entwined the Mormon Millers of the Hill Country into my interest in German Texans before the American Civil War and made more intersections. Beginning in 1996, I started researching and out of that came the award-winning Polygamy on the Pedernales: Lyman Wight's Mormon Villages in Antebellum Texas 1845 to 1858, which won the John Whitmer Historical Association Best Book Award in 2006 funded by the Smith-Pettit Foundation.
During all of that, the life of John Pierce Hawley became a compelling narrative. The son of Sarah and Pierce Hawley, John came of age and the Latter-day Saint Black River Lumber colony in Wisconsin Territory in the early 1840s. Bishop George Miller and Apostle Lyman White directed this lumber mission. The colony's mission was to provide lumber and timber for the construction of the Nauvoo Temple and the Nauvoo House (a large-scale hotel project that never saw completion). Apostle Lyman Wight broke from the Quorum of The Twelve Apostles soon after the death of Joseph Smith Jr. Wight could not submit to Brigham Young's leadership of the Church. Instead, he carried out a mission that was given to him by Joseph Smith Jr. to the Republic of Texas to establish a colony for the Latter Day Saints. John Pierce Hawley help to build the first Mormon temple west of the Mississippi in Zodiac, Texas, in 1849. In it, he was sealed to Sylvia Johnson and was a witness and officiator in the rites and rituals of the Zodiac Temple.
Q: John Pierce Hawley left Wight's colony, converted to Brigham Young's Utah church, and became one of the early settlers in southern Utah's "Dixie" area. What can you tell us about this period of his life?
A: John Pierce Hawley followed Wight for eleven years until he broke with him in 1854 and followed his father, Pierce Hawley, to the Indian nations in what is now Oklahoma. Two years later in the Cherokee Nation, John and Sylvia Hawley (and most of his family and kin) converted to the Utah church led by Brigham Young. That summer and fall the Hawley's joined the Jacob Croft company and emigrated to Utah Territory. On the trail, they passed the ill-fated Martin and Willie handcart companies. In Utah, the Texans were interviewed and re-baptized, and the Hawleys were sent to Ogden in northern Utah. The following spring, John and his brother George were called, along with many other Texans, to Washington County in southern Utah to begin a mission on the Rio Virgin growing cotton and support a barrier "wall" of colonies that Young built in the Intermountain West to protect the stronghold of Zion.
John and Sylvia Hawley, as well as John's brother George and his three plural wives, lived in Pine Valley, Utah for thirteen years—from 1857 to 1860. John worked as a road inspector, constable, public and religious school superintendent, and was the presiding elder from 1857 to 1867. However, because John was monogamous, William Snow, brother of Apostle Erastus F. Snow, was installed as the first bishop of Pine Valley. Apostle Snow did not think monogamous priesthood holders should obtain leadership positions in the Church.
Q: Some of John Pierce Hawley's contemporaries accused him of being involved in the massacre at Mountain Meadows. What does the historical record tell us?
A: After a less than inspiring agricultural year in Washington, the Hawley brothers went to Spanish Fork, Utah, to pick up their wives and be sealed to them in Salt Lake City by Brigham Young. On the return to Dixie, they rode with the doomed Fancher-Baker wagon train that was massacred at Mountain Meadows by the Mormon militia from the Iron County Brigade, commanded by Colonel William Dame. John D. Lee, one of the other militia leaders, later accused John Hawley of being present at the massacre. John's brothers, George and William, have been identified as being on the Meadows killing fields. John denied any participation in it and even condemned the atrocity in his local congregation. His public condemnation nearly got him killed, as members of his congregation included some of the murderers. A secret meeting resulted in a narrow vote to let him live.
Q: Eventually, John Pierce Hawley left Brigham Young's church and joined the Reorganized church, led by Joseph Smith III. What can you tell us about the events that led to his conversion?
A: In 1868, several events change John's life. He received his second endowment under the hands of Apostle Erastus Snow in Salt Lake City and assisted Apostle Snow in giving others their second endowments. John was then sent on a mission to Iowa to convert his RLDS family members to the Utah church. He spent five months there, and as he reported, neither he nor his relatives converted one another. However, John's mission to Iowa planted seeds in him. Over the next year-and-a-half, John struggled with the principles of polygamy, Brigham Young's Adam-God teachings, the harrowing threat of "blood atonement," and overbearing priesthood leadership. In November of 1870, both John's and George Hawley's families converted to the Reorganized church. They left Salt Lake City on a train to western Iowa and never returned. All the Hawleys in Iowa remained participants in the Reorganized church until their deaths.
Q: In what ways do you think John Hawley's story is significant within Mormon history?
A: John Pierce Hawley is important because he is a Mormon Ulysses of the American West. His interactions with Mormonism brought him through the interior of the Great American West from the Wisconsin Territory, to the Republic of Texas, to Indian territory, to Utah Territory, and back to Iowa. He crisscrossed the interior of western America five times because of his devotion to Mormonism. He served missions to eastern Texas, along the Missouri and Mississippi rivers, to northern Utah, and western Iowa. He was fascinated with Mormonism and was a fervent disciple of Joseph Smith Jr. His life demonstrated that for him, there was "more than one way to Mormon." He kept trying until he got it right for himself.
---
---
Audio version
---
Praise for Life and Times of John Pierce Hawley:
"An important contribution to the field of Mormon studies and history.

"

— Adam Oliver Stokes, BYU Studies
"In what reads like a sequel to his award-winning Polygamy on the Pedernales (2006), Melvin C. Johnson's biography Life and Times of John Pierce Hawley: A Mormon Ulysses of the American West is a fascinating counterpoint to the standard Mormon pioneer study. Born in Illinois in 1826 and baptized in Missouri at age 11, Hawley moved with his family first to Nauvoo and later to Wisconsin. By the time he was 19, he was a member of the Lyman Wight colony in antebellum Texas where he lived from 1845 to 1855 before rejoining the Latter-day Saints in Utah Territory in 1856. Assigned with others to establish a settlement of the Saints in Pine Valley near St. George, Hawley shared in the many formidable challenges of living in a harsh desert climate in Utah's Dixie country. Ever opposed to polygamy and increasingly uncomfortable with Brigham Young's policies, doctrinal interpretations, and style of leadership, Hawley eventually converted to the Reorganized Church of Jesus Christ of Latter Day Saints (now Community of Christ). In 1870 with his wife and family, he boarded a train to Iowa where he spent the remaining thirty years of his life in support of Joseph Smith III. Hawley's story is exceptional and in the words of the author 'a vehicle for telling a larger story than his own: that of the Mormon diaspora.' 

Well written, solidly researched, and beautifully produced, this book is an essential read for those interested in studying the competing strands of the Mormon Restoration movement in mid-nineteenth-century frontier America

." — Richard E. Bennett, Professor, Church History and Doctrine, Brigham Young University
"Melvin Johnson's biography of John Hawley is

a marvelous record of an LDS everyman meandering through the Mormon West

, from Nauvoo to Wisconsin to Texas to "Indian Territory" to southern Utah, back to Iowa. In addition, this is a major addition to local history, as Hawley lived in Pine Valley for many years. The narrative illuminates a number of subjects: polygamy, the Mountain Meadows Massacre, the LDS/RLDS divide. It is a fascinating and superbly researched book.

"

—

Todd M. Compton, author of A Frontier Life: Jacob Hamblin, Explorer and Indian Missionary
"Johnson tells the fascinating story of John Hawley, a relatively unknown Latter Day Saint and a religious seeker, whose commitment to his faith led him to follow Lyman Wight after the martyrdom, to relocate to Utah and accept Brigham Young's leadership after Wight's death, and eventually to gather to Iowa, as a member of the Reorganized Church of Jesus Christ of Latter Day Saints.

Through the biography of one man, Johnson introduces us to five different incarnations of the Latter Day Saint tradition.

Some Saints were never settled in one church but continued to join and leave denominations looking for what once attracted them to the tradition. This is the first book to highlight the experience shared by numerous men and women who could share Johnson's nickname for Hawley, a 'Mormon Ulysses.'"—Christopher James Blythe, Research Associate, Neal A. Maxwell Institute for Religious Scholarship
"Mel Johnson is among the best historians practicing pan-Mormon history now on the planet. He has written the first comprehensive biography of the life of John Pierce Hawley, the Ulysses of The Restoration, which gives his book

a scope and sweep seldom matched in studies of the faith's origins

. For those of us 'who consciously and unconsciously' define ourselves as Latter Day Saints, he writes with passion and compassion about how we 'bob and weave along that stream sweeping into the river called humanity.'"—Will Bagley, Writer and Historian
"We benefit from books such as Life and Times of John Pierce Hawley. They

underscore the uniqueness of the Mormon historical experience

, for better or worse. Johnson's commendable effort provides us a looking glass into the daily life of an individual who helped shape that experience." —Doug Gibson, Mormon History and Culture
"An important and compelling book. Mel Johnson has done an outstanding job in documenting and telling the story of John Hawley the Mormon Ulysses. . . . In relating the journeys and tales of this brave American Ulysses as he searched for the authentic Mormon faith, Johnson

gives his readers a greater understanding of 19th century Mormon Restorationism.

" —Andrew Hamilton, Worlds Without End
"In retracing Hawley's spiritual quest, the author skillfully takes the reader beyond Mormonism's typical narrative to a time and place where individual human experience becomes more nuanced, confused, conflicted, and perhaps more recognizable. . . . Melvin Johnson has written

a refreshing book that nourished my imagination and wonder

." —John E. Baucom, Association for Mormon Letters
"A highly readable, skillfully researched biography." —Danny, L. Jorgensen, Journal of Mormon History
---
About the Author:
Melvin C. Johnson is an independent historian and retired college professor, writer, and speaker who pursues subjects dealing with the East Texas mill town culture, the Texas Hill country before and in the Civil War, and the intersection of Western America and Mormonism. His work won the Smith-Pettit Best Book Award (2007) for Polygamy on the Pedernales: Lyman Wight's Mormon Village in Antebellum Texas and the Greg Kofford Best Theological Article (2017) for "John Hawley: Mormon Ulysses His LDS Mission to Iowa and Eventual RLDS Conversion," John Whitmer Historical Association Journal. He and Halli, his wife, live in Salt Lake City, Utah, and Tyler, Texas.
---
More Information:
228 pages
ISBN: 978-1-58958-764-9 (paperback); 978-1-58958-765-6 (hardcover)
Published March 2019