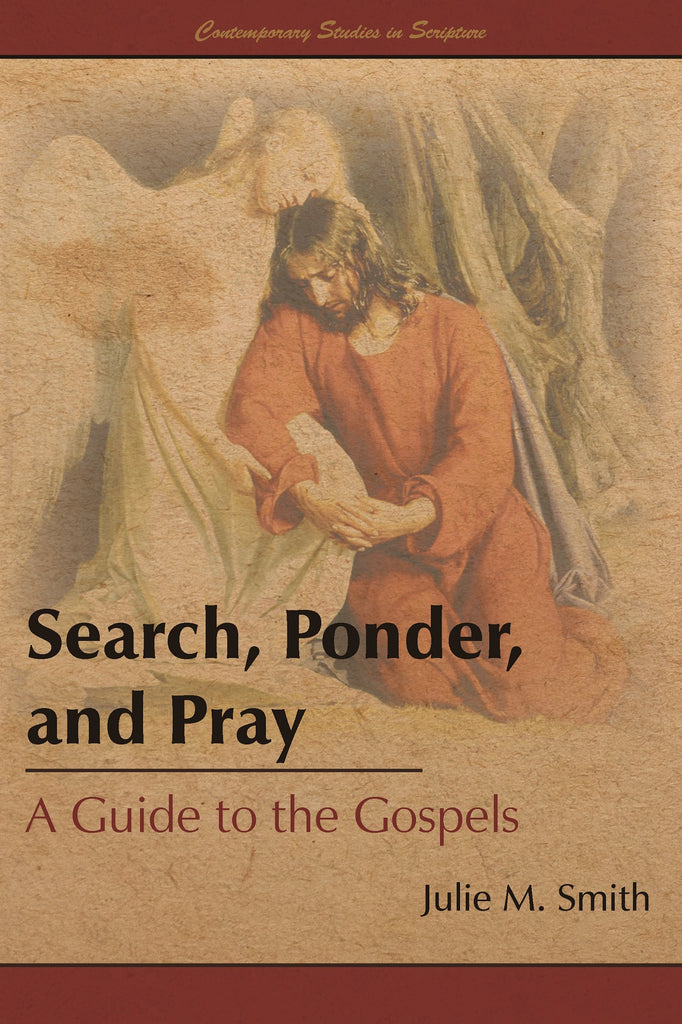 Search, Ponder, and Pray: A Guide to the Gospels
$27.95
By
Julie M. Smith
---
"Allows ample opportunity for readers to plunge into the teachings of the New Testament.

"

— Mormon Times



"It is my sincere hope that every teacher involved with church education will take advantage of this incredible resource."

— David Bokovoy


"A readable, usable. and most welcome volume."

— Jeffrey Needle, Association of Mormon Letters


"I highly recommend this volume for anyone who wishes to actually learn something from her encounter with the Gospels."

— Kevin Barney
---
Available in ebook for Kindle, Nook, Kobo, Google Play, and Apple.
---
Also available through Amazon.
---
Download a free sample preview.
---
Part of our Contemporary Studies in Scripture series
---
Book Description:
Latter-day Saints already familiar with the New Testament will find a wealth of new insights into the cultural, historical, and literary background of the Gospels. Research previously shrouded in academic jargon is presented in a way that is not only understandable, but encourages readers to evaluate the evidence for themselves and to draw their own conclusions. Over 4,000 thought-provoking questions allow readers to ponder the scriptures in new and exciting ways. In many ways, this book immediately and directly facilitates a close, deliberate, and thoughtful reading of the scriptural text.
---
AuthorCast Interview with the Author:
---
Comprehensive Table of Contents:
.
Preface to the Second Edition
Preface to the First Edition
Acknowledgements
Introduction
Thinking about the Scriptures
Preparing to Study the Gospels
Notes on the Format of this Book
And What If I Can't Answer the Question?
And, Finally . . .
The Gospel of Mark
Introduction
Conclusion
The Gospel of Luke
Introduction
Conclusion
The Gospel of Matthew
Introduction
Conclusion to Matthew
Conclusion to Matthew, Mark, and Luke
The Gospel of John
Introduction
Conclusion to John
Conclusion to the Gospels
Appendix A: Why These Women in Jesus's Genealogy?
Tamar
Rahab
Ruth
Bathsheba
Appendix B: Written That Ye Might Believe: Literary Features of the Gospels
Important Statements
Paired Examples
Intratextuality and Intertextuality
Reading for Details
Appendix C: She Hath Wrought a Good Work: The Anointing of Jesus in Mark's Gospel
The Anointing
The Immediate Context
The Larger Context
The Joseph Smith Translation
Conclusion
---
Q&A with the Author:
.
Q: This book has a most unusual format. With the exception of the introductory materials and essays in the appendices, it's just a series of hundreds of questions. Can you talk about why you opted for such an unconventional approach?
A: I wanted to introduce readers to new ideas without necessarily advocating for those ideas. It was more important to me to have the reader do her own thinking about it than for me to let her know what I think. And, frankly, I'm not entirely sure of the best answers to a lot of these questions! I also have a really strong belief in the idea that the moment when you are genuinely pondering the potential answer to a question is the moment when you are making it easiest for personal inspiration to come, and so I wanted to facilitate that process.
Q: Mormon readers are often cautious or downright suspicious of academic biblical studies. Should we be?
A: A lot of that suspicion comes from statements from earlier leaders, especially Elder Bruce R. McConkie, who expressed skepticism about biblical studies. I actually agree with Elder McConkie to some extent: when he spoke, much of what was done in the academy was neither ultimately productive (in an academic sense) nor devotionally useful. However, that is most emphatically not the case today! Since about 1980, a variety of literary approaches to the New Testament have been ascendant in the academy and have shown to be very useful devotionally. So modern academic biblical studies is well worth engaging. Of course, everyone should still maintain a healthy suspicion--there is enough disagreement within the field that no one outside of it should feel obligated to believe everything that he reads. But that's a suspicion that should prompt thoughtful engagement, not avoidance.
Q: This is a second edition, which Kofford Books is including in its Contemporary Studies in Scripture Series. What revisions have you made, and why republish it?
A: The revisions include minor changes to the body of the text---including the addition of a number of new questions---and the inclusion of three new essays. Kofford Books approached me about revising and republishing it for inclusion in their new Contemporary Studies in Scripture series and encouraged me to include some of what I've worked on and published since doing the first edition. The editors told me they were especially interested in my book, despite its having been previously published, because they felt like it so directly and immediately facilitated the kind of close, careful reading of scriptural texts the series is meant to encourage.
Q: What audience did you have in mind in writing and revising the book? Is it the kind of book that a rank-and-file Sundayschool instructor could benefit from?
A: The audience includes people studying the NT on their own or teaching it to adults (or older youth). I think a rank-and-file teacher would definitely benefit because the questions are designed to provide useful background information and then prompt discussion. For example, for Matthew 5:13 ("ye are the salt of the earth"), I offer many different options for the symbolism of salt common to Jesus' time (incidentally, our modern idiom "salt of the earth" is not one of them!) and then ask which ones make sense in this context.
Q: Does a "Mormon reading" of the New Testament exist? What are the shortcomings of how we read---and how we teach---the New Testament?
A: Let me tell you a story: when my youngest son was about two, he'd normally come and get me as soon as he woke up ("Open your eyes! Talk to me!"), but one day, he didn't. I awoke well after him and found him in the kitchen; he hadn't noticed I was there so I watched him for a few minutes. He'd somehow managed to open a new box of raisin bran. He would dump a mound of it on the table, pick out the raisins and eat them, and then use his little arm to brush all of the flakes onto the floor. And then he'd do it again. I think that's sometimes how we read the scriptures: picking out the familiar, easy bits and making a mess of the rest! As a result, our lessons can often have a rote and wooden feel to them. I can't tell you how much this saddens me--because there are immense treasures of fascinating ideas in the scriptures and we sometimes don't recognize it! 
Q: What new projects are you currently at work on that we can look forward to?
A: I'm working on the volume on the Gospel of Mark for the BYU New Testament Commentary.
---
---
Praise for Search, Ponder, and Pray:
"Julie Smith has made a substantial contribution, not simply to the growing field of serious Mormon scholarship on the Bible, but to the LDS community as a whole. In Search, Ponder, and Pray, Smith shares her impressive gift to ask questions that lead to powerful literary, historical, and devotional insights. This is the type of book I wish I would have had at the beginning of my career.

It is my sincere hope that every teacher involved with church education will take advantage of this incredible resource.

" — David Bokovoy, author of Authoring the Old Testament
"It's impossible to read any page of Search, Ponder, and Pray with your mind on autopilot, because unless you take a stab at answering the questions yourself, there is really no point in reading. . . .

Using this book has made me a better teacher

by causing me to ask better questions during class discussions. It's made me a better reader of the scriptures by training me to ask similar questions as I study." — Ardis Parshall, Keepapitchinin
"Smith's goal was to produce a tool for using existing scholarship, while urging students to continue to ponder, question, and analyze. The result is

a readable, usable. and most welcome volume

. . . . I was amazed at the comprehensive nature of Smith's research. In some cases, she presents several alternative ways of understanding a scripture, and leaves it to the student to determine that which seems right. It places the burden of thought on the student, and leaves the teacher to guide the discussion and direct the students to a deeper experience with the scriptures. . . . I really liked this book, and would gladly recommend it to those wanting to go deeper in their Bible study, but especially to those teachers who hunger for new and innovative ways to involve their classes in studies of the Gospels." — Jeffrey Needle, Association of Mormon Letters
"We ask lots of questions in Church classrooms. Questions in form anyway, where the answer is presumed, known, and an obvious given. But rarely do we ask genuine, real questions, where the answer is not necessarily clear or certain and we actually have to think about what the answer might be. I have long admired Julie's talent, on full display in this volume, of asking truly probing questions about a text as a way to compel a reader to encounter it genuinely. I have used her material in my own teaching, and from the effort I have learned and even grown a little bit better at coming up with such thought questions myself.

I highly recommend this volume for anyone who wishes to actually learn something from her encounter with the Gospels

." — Kevin Barney
"I have learned more from Search, Ponder, and Pray than from any scriptural commentary or study guide I have ever encountered. Julie Smith goes well beyond asking interesting and valuable questions about the Gospels. She walks with us through a familiar terrain and points out things that we have been missing all of our lives—pertinent cross references, cultural and linguistic contexts, rhetorical strategies, possible inconsistencies, stylistic choices, and curious omissions. And she consistently resists the temptation to tell us what to think, preferring to point out important facts and details and allow readers to form their own conclusions. The result is a steady stream of insights that we produce ourselves in a process that feels a lot like revelation." — Michael Austin, author of Re-reading Job: Understanding the Ancient World's Greatest Poem
"Search, Ponder, and Pray is an in-depth study guide pulling readers into a deeper exploration of the culture, symbolism and significance of the teachings of Matthew, Mark, Luke and John. This weighty work joins lessons from the Old Testament and New Testament and the Joseph Smith Translation of the Bible with ideas from the Book of Mormon, Doctrine and Covenants and even modern prophets and Bible scholars. . . . Smith's approach in this commentary

allows ample opportunity for readers to plunge into the teachings of the New Testament

 in a way that is personal and geared directly to each reader's interests and understanding." — Melissa DeMoux, Mormon Times
---
Podcasts and Interview Links:
---
About the Author:
Julie M. Smith graduated from the University of Texas at Austin with a BA in English and from the Graduate Theological Union in Berkeley, CA, with an MA in Biblical Studies. She is on the executive board of the Mormon Theology Seminar and the steering committee of the BYU New Testament Commentary series, for which she is writing the volume on the Gospel of Mark. She also writes for Times & Seasons, where she is the book review editor. She lives near Austin, Texas, where she homeschools her children.
---
More Information:
313 Pages
ISBN 978-1-58958-671-0 (paperback); 978-1-58958-672-7 (hardcover)
Published December 2014