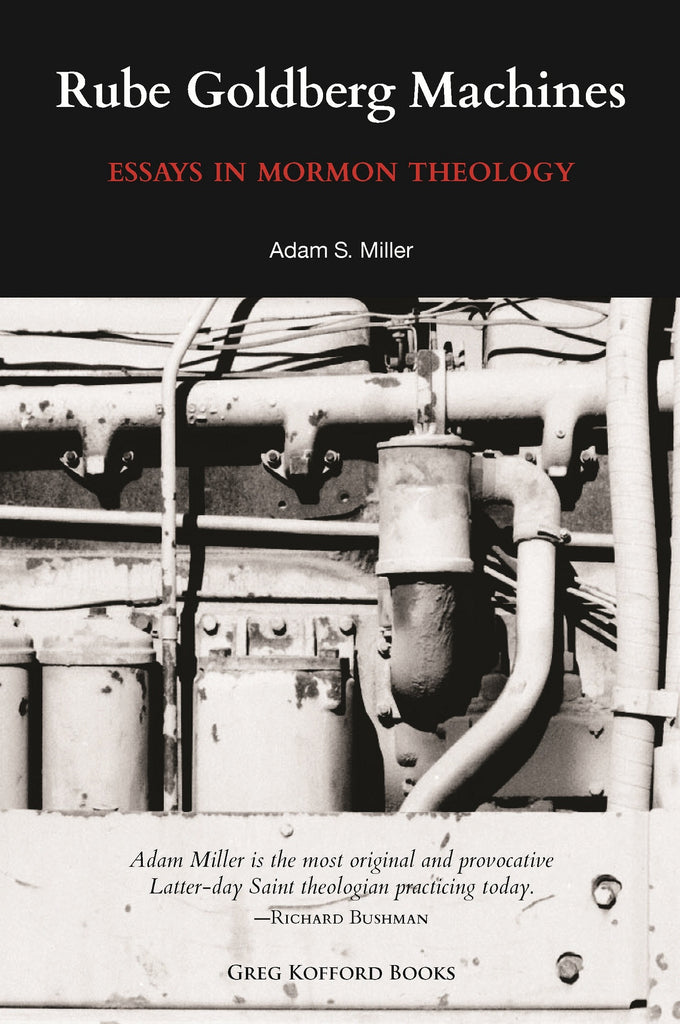 Rube Goldberg Machines: Essays in Mormon Theology
$18.95
---
"One of the best and most important commentaries on the gospel and on life itself that I have ever read."

— BYU Studies Quarterly


"

Rube Goldberg Machines is not simply original and provocative, it is often thrilling." — Dialogue: A Journal of Mormon Thought


"A theology of pure immanency is what Adam's given us and I can only hope that Mormon theology will never be the same again."

— Mormon Metaphysics


"A landmark work in the world of Mormon theology."

— The Mormon Book Review


"Full of ingenious, even dazzling formulations, and of lovely, often bracing and sometimes startling insights."

— SquareTwo

---
Available for Kindle, Nook, Apple, Google Play, and Kobo.
---
Also available through Amazon.
---
Book Description:
Doing theology is like building a comically circuitous Rube Goldberg machine: you spend your time tinkering together an unnecessarily complicated, impractical, and ingenious apparatus for doing things that are, in themselves, simple. But there is a kind of joy in theology's gratuity, there is a pleasure in its comedic machination, and ultimately—if the balloon pops, the hamster spins, the chain pulls, the bucket empties, the pulley lifts, and (voila!) the book's page is turned—some measurable kind of work is accomplished. But this work is a byproduct. The beauty of the machine, like all beauty, is for its own sake.
     Theology, maybe especially Mormon theology, requires this kind of modesty. The Church neither needs nor endorses our Rube Goldbergian flights. The comic aspect of the arrows we wing at cloudy skies must be kept firmly in mind. The comedy of it both saves us from theology and commends us to it.
     Engaged in this work, theology has only one definitive strength: it can make simple things difficult. Good theology forces detours that divert us from our stated goals and prompt us to visit places and include people that would otherwise be left aside. The measure of this strength is charity. Theological detours are worth only as much charity as they are able to show. They are worth only as many waylaid lives and lost objects as they are able to embrace. Rube Goldberg machines, models of inelegance, are willing to loop anything into the circuit—tax collectors, prostitutes, lepers, Democrats, whatever. In charity, the grace of a disinterested concern for others and the gratuity of an unnecessary complication coincide. Theology helps us to find religion by helping us to lose it. Theology makes the familiar strange. It ratchets uncomfortable questions into complementary shapes and helps recover the trouble that is charity's substance.
     This book is itself a Rube Goldberg machine, pieced together from a variety of essays written over the past ten years. They offer explicit reflections on what it means to practice theology as a modern Mormon scholar and they stake out substantial and original positions on the nature of the atonement, the soul, testimony, eternal marriage, humanism, and the historicity of the Book of Mormon.
---
Comprehensive Table of Contents:
.
Acknowledgments
Foreword
Introduction
1. Benedictus
2. Notes on Life, Grace, and Atonement
3. Messianic History: Walter Benjamin and the Book of Mormon
4. Overwritten, Written Elsewhere: Names, Books, and Souls in St. John's Apocalypse
1. Introduction
2. The Soul: Composed and Distributed
3. The Body of the Soul
4. The Spirit of the Soul
5. Overwritten
6. Written Elsewhere
7. Mark of the Beast
5. Recompense
1. Soul as Watershed
2. Gene/Ecology
3. Recompense
6. A Manifesto for Mormon Theology
7. Atonement and Testimony
1. Introduction
2. All Things Are Appendages
3. Atonement and Possibility
4. Pure Testimony
5. Bearing Testimony
6. Conclusion
8. The Gospel as an Earthen Vessel
1. Introduction
2. How to Think an Immanent Transcendence: The Figure of an Event
3. Mormonism Conceived as an Immanent Event
4. Conclusion
9. Love, Truth, and the Meaning of Marriage
10 .A Hermeneutics of Weakness
1. The Weakness of the Word verses the Strength of the Sword
2. Faith Is Things Which Are Hoped For and Not Seen
3. When We Write We Behold Our Weakness
4. He Could Not Be Kept From Within the Veil
11. Humanism, Mormonism
1. Humanistic Inquiry
2. Mormon Revelation
3. Mormonism and Humanism
12. The Word of Truth and the Spirit of Truth
1. Only in the context of the Spirit can the truth be taken up truthfully.
2. Nothing is more merciful than the truth when it is truthfully told.
3. Truth, in order to be salvific, must bear the personal mark of the speaker who declares it truthfully.

13. Groundhog Day
14. Shipwrecked
Bibliography
Scripture Index
Old Testament
New Testament
Book of Mormon
Doctrine and Covenants
Subject Index
---
---
Praise for Rube Goldberg Machines:
"Adam Miller is

the most original and provocative Latter-day Saint theologian practicing today

." — Richard Bushman, author of Joseph Smith: Rough Stone Rolling
"Successful Rube Goldberg Machines do ordinary work, but they do it in complicated, funny, beautiful ways. When they are successful we cannot turn our eyes away. By those measures, Adam Miller's Rube Goldberg Machines are a success, one that I envy. As a stylist, Miller gives Nietzsche a run for his money. As a believer, Miller is as submissive as Augustine hearing a child's voice in the garden. Miller is a theologian of the ordinary, thinking about our ordinary beliefs in very non-ordinary ways while never insisting that the ordinary become extra-ordinary." — James Faulconer, Richard L. Evans Chair of Religious Understanding,Brigham Young University

"Rube Goldberg Machines is not simply original and provocative, it is often thrilling." — Robert A. Rees, Dialogue: A Journal of Mormon Thought

"Miller's language is both recognizably Mormon and startlingly original, as are the forms the language takes—fragments, aphorisms, prose poems—arguments made art. The whole is an essay worthy of the name, inviting the reader to try ideas, following the philosopher pilgrim's intellectual progress through tangled brambles and into broad fields, fruitful orchards, and perhaps a sacred grove or two." — Kristine Haglund, editor of Dialogue: A Journal of Mormon Thought

"Miller's Rube Goldberg theology is nothing like anything done in the Mormon tradition before. Rather than engage in historical mining of ideas or semantic analysis, Miller treats various byways and paths through Mormonism as if admiring a fine diamond—experiencing it, turning its facets, looking at the clarity of light and reveling in its colors." — Blake Ostler, author of the Exploring Mormon Thought series

"The value of Miller's writings is in the modesty he both exhibits and projects onto the theological enterprise, even while showing its joyfully disruptive potential. Conventional Mormon minds may not resonate with every line of poetry and provocation—but Miller surely afflicts the comfortable, which is the theologian's highest end." — Terryl Givens, author of By the Hand of Mormon: The American Scripture that Launched a New World Religion

"A theology of pure immanency is what Adam's given us and I can only hope that Mormon theology will never be the same again." — Clark Goble, Mormon Metaphysics

"This is great theology in all the right ways, but you'll have to read it yourselves to get a taste for its power. Buy the book and read it. Seriously." — Samuel Brown, author of In Heaven as It Is On Earth: Joseph Smith and the Early Mormon Conquest of Death

"Rube Golberg is a landmark work in the world of Mormon theology." — Kirk Caudle, The Mormon Book Review

"Adam Miller's Rube Goldberg Theology is full of ingenious, even dazzling formulations, and of lovely, often bracing and sometimes startling insights." — Ralph Hancock, SquareTwo

"Adam Miller never fails to teach me to read more attentively, with more faith, more hope, and more charity." — Joseph Spencer, SquareTwo

"Adam's work . . . enlightens the philosophical endeavor with Mormonism's richness and singularity. It is a work of truly great theology that only could have been contrived (and perhaps only in Rube Goldberg fashion) by a brilliant Mormon." — Brad Kramer, By Common Consent

"Rube Goldberg Machines is one of the best and most important commentaries on the gospel and on life itself that I have ever read. It can perhaps be best compared to Ecclesiastes, The Annals of Confucius, or the compact wisdom of the Tao Te Ching. Save for the electrifying thought of the French Jewess Simone Weil, one of Christ's most astute modern-day disciples, whom, to my mind, Miller resembles, I can think of no one else who has so "universally extended" (Miller's phrase) my understanding of the gospel's essential concepts and their implications for an authentic and blessed spiritual life." — Thomas F. Rogers, BYU Studies Quarterly
---
About the Author:
Adam S. Miller is a professor of philosophy at Collin College in McKinney, Texas. He is the author of Badiou, Marion, and St. Paul: Immanent Graceand Speculative Grace: An Experiment with Bruno Latour in Object-Oriented Theology, editor of An Experiment on the Word: Reading Alma 32, and director of the Mormon Theology Seminar.
---
Podcasts:
An interview with Adam Miller on the
Mormon Discussions Podcast
.
---
More Information:
Pages: 148
ISBN: 9781589581937 (Paperback)
Published April 2012