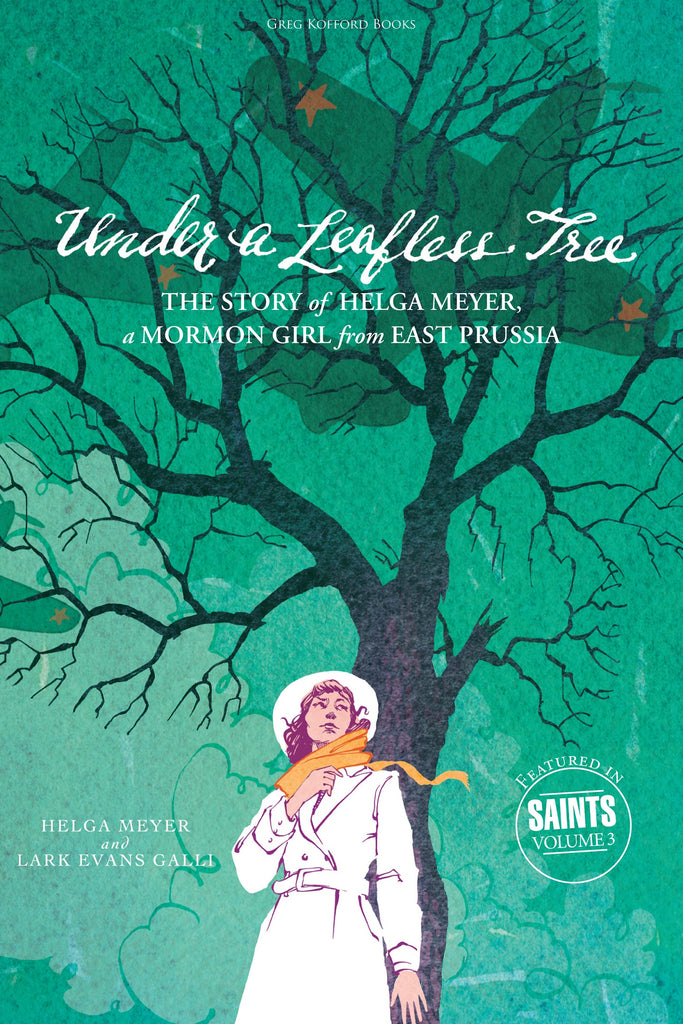 Under a Leafless Tree: The Story of Helga Meyer, a Mormon Girl from East Prussia
$20.95

by Helga Meyer and Lark Evans Galli
---
Helga's story is featured in the forthcoming
Saints, Vol. 3, Boldy, Nobly, and Independent, 1893-1955
---
Now available in paperback and ebook.

---
"A wonderfully crafted and engaging narrative!"

 — Jill Mulvay Derr


"Helga Meyer's story is simply amazing."

— Association for Mormon Letters


"This is a remarkable book."

— The Exponent II


"What an important, poignant story. I can hear Helga's voice as I read it."

— 

Linda K. Newell


"Brings to life an important, but previously little known, part of our history."

— Claudia L. Bushman
---
Available in ebook for Kindle, Google Play, Kobo, and Apple.
---
Also available through Amazon.
---
Download a free sample preview.
---
Book Description:
Imagine if the world you grew up in ceased to exist. In her own words, Helga Meyer tells of the disintegration of her hometown in Tilsit, East Prussia. From an idyllic childhood to persecutions for her curious, new faith, to the challenge of saluting Nazi troops while quietly befriending Jews, and suffering wounds in one of many, daily bombing raids, Helga reveals intimate details about coming of age in a world that is quickly falling apart.
Too soon, Helga's teenaged friends, brothers and cousin are facing death in the bitter fields of France and Russia. Amidst fellow refugees, Helga finds her natural optimism challenged by increasing and very personal heartbreak. Alone in a foreign land, Helga struggles to find refuge and braver still, a chance at romance. Led by a prophetic dream, she devises a means of escape in order to begin a new life in America.
Revealing previously unknown details of women's experiences during World War II and the lives of early Latter-day Saints in East Prussia and East Germany, this engaging account promises to be a valuable addition to the growing collection of World War II memoirs. A richly layered story, weaving together both personal and historically significant events, Under a Leafless Tree is an unforgettable, true story that stays with the reader.
---
Comprehensive Table of Contents:
.
Preface, xi

PART I: Childhood, 1
1. A Dreaming Family, 3
2. The Curly Hair, 6
3. The Poor Piano, 10
4. Kind und Kegel, 12
5. At the New House, 13
6. Not about the Family, 16
7. Misadventures and Celebrations, 19
8. The Family Shrank, 24
9. Don't Stay Too Long, 27
10. Meerwischer School, 30
11. Baptism and Persecution, 32
12. We Played in the Dirt! 34
13. Übermemel, 36
14. Wandering and Visiting, 38
15. Down to Me, 40

PART II: The War, 43
16. When Hitler Came, 45
17. Hamburg, 49
18. Every Age Has Its Beauty, 52
19. Over the Glass, 55
20. A Sheet of Sadness, 57
21. Grund's, 61
22. The Coldest Hour, 63
23. Into Your Bones, 65
24. Ernst Braun, 68
25. My Real Treasures, 70
26. He Was So Happy, 72
27. He Would Have Been Good, 78
28. I Should Go Home, 82
29. Beautiful to Have the Omen, 85
30. Crying for Myself, 88
31. The War Is Over for Me, 90
32. To Sing in My Bed, 94
33. To Comfort Me, 98
34. Wise and Good-hearted, 100
35. A Kind of Peace, 102
36. My Hiding Place, 104
37. A Little Bit of Bread, 106
38. A Good Connection, 108
39. Like a Fable, 111
40. Tante Lusche's Daughter, 114

PART III: Marriage and Family, 117
41. You Didn't Turn Around, 119
42. Cammin, 122
43. Not a Nice Sight, 124
44. All on Her Own, 127
45. Maybe I Can Find Him, 131
46. Fish Dishes, 134
47. Show Me Today, 137
48. You Didn't Turn Around, 141
49. Don't Cry, 143

PART IV: America, 147

50. Going This Way, 149
51. A Lake of Water, 153
52. I Saw My Dream, 156
53. We Had Really Come, 158
54. Going This Way, 164
55. To Cry My Heart Out, 167
56. After Words, 171

Epilogue, 173
Appendix, 175
---
Q&A with the Author:
.
How did you first meet Helga? 
I remember meeting Helga and her older daughters when they moved into our neighborhood when I was a young girl. Our parents hired her daughter Heidy to do some ironing for our family and to teach us German over the dinner table. That arrangement didn't last long, but our love for that family grew, even if our German didn't.
When did you decide that you needed to record her story?
After decades apart, life brought Helga and me back together again in the year 2000, when I began to realize the breadth and importance of her stories. I frequently urged her to record them, but she was caught up in the business of her life and couldn't imagine who would find them valuable. When she was called to minister to me as my visiting teacher, we pinned a microphone to her blouse, and fished for stories. I soon realized that she also held the memory of a family and community. She remembered it in vivid detail, with rare photos to match. Nine years later, we had her book!
Can you give a brief overview of Helga's life story and some of the main events covered in the book?
The book begins as Helga is born to a Latter-day Saint family in a small town along the Baltic Sea on the eastern border of Germany in 1920. Her daily childhood adventures intermingle with her country's march from the aftermath of World War I to the rise of Hitler, sweeping Helga and everyone she knows into the heat of the next war. Before long, that conflict has upended her hometown and killed and displaced loved ones. But Helga continues drawing hope and beauty into her life despite the surrounding calamity. Finally, armed with her faith, she fashions a new life, miraculously realizing her dream of escaping East Germany with her family for America.
The book is filled with a remarkable number of photographs from Helga's life in East Prussia. How were these preserved through time and war? 
 From Helga's earliest years, her young uncle "Heini" loved following the family around and snapping photos with a camera similar to the cheap "Brownie" cameras available at the time.  Branch activities were sometimes photographed by American missionaries, who often had cameras and a little more time than current missionaries do. Teenaged Helga had a cheap "idiot box" camera that she loved taking along on outings. During the War she prioritized preserving her photos by carrying them in and out of cellars and bunkers during every air raid. After the war, she inherited the photo albums of her aunts Gretel and Lusche, rounding out her collection.  Photos of her town of Tilsit were generously shared by the Tilsit City Organization. Helga's collection of original and rare photos is astonishing.
How did Helga's faith support her during the global and personal crises she lived through?
By the time World War II arrived, Helga had found joy in her faith and fellowship with those in her small branch. She had learned to lean on her Father in Heaven in times of persecution, and already recognized a family gift of inspired dreams. She had been taught the gospel by her convert mother, grandmother, and aunts, as well as by her branch president and other church leaders. She seemed to gain faith as hers was challenged, as disheartening as those times were. During the war, she observed examples of kindness and strength in the lives around her; in particular, her Aunt Lusche, whose faith and compassion inspired many in and out of the church. Helga saw the Lord's hand in situations as awful as the deaths of her dearest loved ones. Even then she recognized some small miracle.
The world faces multiple refugee crises, including a new one in Eastern Europe as a consequence of Russia's war on Ukraine. How can Helga's story from the past help us better understand similar trials in our own time?
When I think about Helga's life, I remember that though the world may be in turmoil, we can continue serving, caring, and praying as she did. Helga saw miracles even when her most fervent prayers were unanswered. It is easy in hard times to assume that our lives have been ruined because they have been greatly changed. Life seems to have taken a horrible detour. Like millions from Ukraine today, war forever separated Helga from her home, her family, and her friends. And yet she saw beauty in life, even when she was injured in a bombing. She believed that God was with her because she had proved Him over and over. She trusted His promises, and up to the end of her life continued finding meaning in her prayers, her scripture studies, and her connections with fellow saints.
---
Praise for Under a Leafless Tree:
"

A wonderfully crafted and engaging narrative!

Helga Meyer captivated us with her story. A remarkable life, punctuated with marvelous photographs." — Jill Mulvay Derr, co-editor of The First Fifty Years of Relief Society: Key Documents in LDS Women's History
"

Helga Meyer's story is simply amazing

, from her unlikely childhood on the other side of the Danzig corridor to her death-defying escape on a U-Bahn train ride from East to West Berlin. It was hard to put down. . . . 

All members of the Church of Jesus Christ of Latter-day Saints should read this book

. It's simply marvelous." 

— 

Daniel Evensen, Association for Mormon Letters
"Though I have never heard Helga's voice, whenever I read, I felt like I could hear it- simply telling me about her, her life and her inspiringly positive perspective. I felt lighter in reading the book, and with a newfound gratitude for family, and freedom. This is a remarkable book." — The Exponent II

"Lark Galli has performed a great service in capturing, preserving, and making available the voice and images of Helga Mayer. This memoir of a Mormon life in Nazi Germany during World War II, beautifully edited, brings to life an important, but previously little known, part of our history." — Claudia L. Bushman, co-editor, Mormon Women Have Their Say: Essays from the Claremont Oral History Collection

"This book has opened my eyes and heart to the sacrifices German saints made. Their testimonies were deep. After reading such books, I ask, And why did they do what they did? Because they had a testimony of the restored Gospel of Jesus Christ and the need for its power unto Salvation. Amazing." — Ann M. Dibb, former Second Counselor in the Young Women General Presidency


"What an important, poignant story. I can hear Helga's voice . . . as I read it. What a gift you have given to . . . the many people who love her and who will read this absorbing account of her life. Thank you, thank you, thank you!" -- Linda K. Newell, co-author, Mormon Enigma: Emma Hale Smith
---
About the Authors:
Helga Meyer was born in 1920 in East Prussia to a close-knit family of recent Mormon converts. World events would take the lives of her siblings, grandparents, many friends, and relatives. Helga passed away in Utah at the age of 98.
Lark Evans Galli received a master's degree in English with an emphasis in folklore from Brigham Young University in 1986. She and her husband, Craig, live in Salt Lake City, Utah. They have four daughters and eight grandchildren.



---
More Information:
208 pages
ISBN: 978-1-58958-673-4
Press Sheet