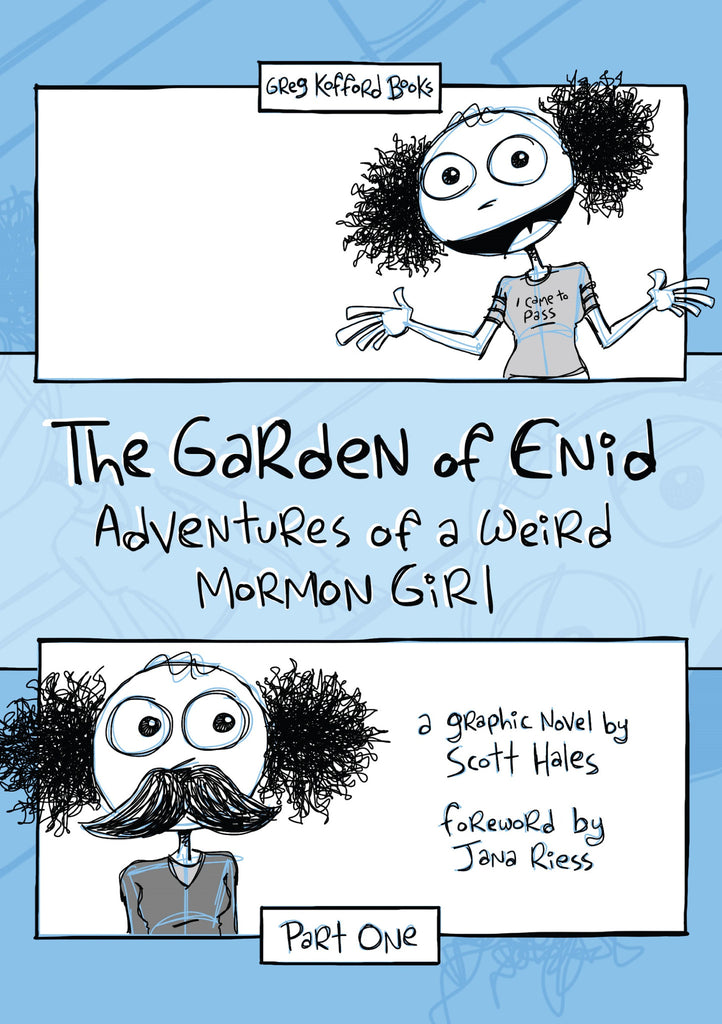 The Garden of Enid: Adventures of a Weird Mormon Girl, Part One
$22.95
by
Scott Hales

with a foreword by Jana Reiss
---
"Enid brings something real, something faith-affirming, something beyond Happy Valley and seminary videos and Saturday's warrior to the LDS audience."




"This book is a classic whether you rush through it from cover to cover or linger over each moment."




"Hales has created a world that will be an enduring addition to Mormon Literature. Don't miss this delightful work."




"Like any good comic character, she makes me laugh. Like only a few manage to pull off, she makes me cry, too."
---
Available for the
Kindle.
---
Also available through Amazon.
---
Download a free sample preview.
---
Book Description:
Fifteen-year-old Enid Gardner is a self-proclaimed "weird Mormon girl." When she isn't chatting with Joseph Smith or the Book of Abraham mummy, she's searching for herself between the spaces of doubt and belief. Along the way, she must grapple with her Mormon faith as it adapts to the twenty-first century. She also must confront the painful mysteries at the heart of her strained relationship with her ailing mother.
This edition of The Garden of Enid: Adventures of a Weird Mormon Girl recasts the award-winning webcomic as a two-part graphic novel. With revised and previously unpublished comics, it features the familiar story that captivated thousands online, yet offers new glimpses into Enid's year-long odyssey.
---
AuthorCast interview with the Author:
---
---
The Garden of Enid: Adventures of a Weird Mormon Girl, Part Two
---
Praise for The Garden of Enid:
"Enid is one of my favorite figures in Mormon culture. She is incredibly human for all of her two dimensions. On one hand, she's a flawed yet faithful individual constantly seeking after truth. On the other, she offers a remarkable window into the life of a teen-aged girl growing up Mormon. Creator Scott Hales uses his medium to his advantage, giving The Garden of Enid a marvelous glint of theatricality. Enid bends time and space to chat with an array of characters, from the Prophet Joseph to a less historical but no less compelling guardian angel named Eugene. It's all just a little wacky—and yet completely true and relatable" —Melissa Leilani Larson, writer of Pilot Program and Freetown
"

Scott Hales [is] the cartoonist for this generation, who gets us like no one else does

. . . . Enid wants to believe the gospel—and she does, more deeply than she realizes—but she is coming of age in a skeptical time, challenging her Seminary teacher and her Young Women leaders in ways they are not always prepared to deal with. She is awkward, she is vulnerable, yet when she follows her heart she invariably does the right thing." —Ardis E. Parshall, Keepapitchinin
"Comics are always meant to help us take a look at ourselves and laugh

—

something sorely needed in Mormon Culture. Enid, with her wise-aleck streak, her unusual and difficult home life, and her overly developed brain, is no usual Mormon fifteen year old girl. With late-night imaginary conversations with long-dead prophets, well-told moments of loneliness and self doubt, snarky Sunday-class encounters, vulnerable, tense conversations with her closeted best friend, to midnight faith crises,

Enid brings something real, something faith-affirming, something beyond Happy Valley and seminary videos and Saturday's warrior to the LDS audience

." —Sarah Dunster, author of Lightning Tree and Mile 21
"I feel lucky to have lived at the time The Garden of Enid was being published, because it gave me the chance to meet one of the best characters in Mormon fiction. From the beginning, she's sharp, sardonic, and frighteningly straightforward

—

it was hard to know whether to be amused or intimidated by this self-proclaimed weird Mormon girl. But she's so delightfully unassuming, it wasn't long before she drew me in. Enid made me wonder what it's like to fly through the cosmos as an unorganized intelligence, made me think about what God wonders when he lies in bed at night, and taught me how to make it through Girls' Camp safely. Get to know her:

this book is a classic whether you rush through it from cover to cover or linger over each moment

, as the original readers did, at a pace of a few comics a week." —James Goldberg, author of The Five Books of Jesus
"I'm at a loss how to convey how deeply The Garden of Enid: Adventures of a Weird Mormon Girl affected me. Enid is witty, insightful, ardent, and captures many of the particular and quirky aspects of Mormonism. More than that, I found myself drawn into this fully realized character in unexpected ways. Her wholehearted engagement with life as she tries to find her place in the world had me rooting for her success over and over. I ended up genuinely caring about Enid and her story.

Hales has created a world that will be an enduring addition to Mormon Literature. Don't miss this delightful work

." —Steven L. Peck, author of A Short Stay in Hell and The Scholar of Moab
"They told us we were a chosen generation. And now I know why: We get to read The Garden of Enid!

Your Mormon nerd cred is directly proportional to how many of these cartoons you laugh at

. The Garden of Enid has it all: laughs, esoterica, faith, messy hair, messy people, and messy endings. The best Mormon comic collection since Cal Grondahl and Pat Bagley." —Stephen Carter, author of iPlates
"Enid isn

'

t a real flesh-and-blood Latter-day Saint, but the more you read the more you'll swear she is.

Like any good comic character, she makes me laugh. Like only a few manage to pull off, she makes me cry, too

." —Blair Dee Hodges, Neal A. Maxwell Institute for Religious Scholarship
"There is much that Enid does not understand, just as there is much that I do not understand. But she

makes me laugh, gives me hope for the future, and teaches me that it's okay to be myself: a weird Mormon girl

." —Jana Riess, author of Flunking Sainthood and The Twible
"

The Garden of Enid is what it is to be an American Mormon in microcosm . . . Like the best comic strips, Enid allows you to both laugh and reflect. And it's a nice reminder that not only is God colorful, but so is life.

"

— Walker Wright, Worlds Without End
"Enid

gives us something more

unique, more heartfelt, more wonderfully obscure... yes, more intellectual, but also more soulful and universal." —Mahonri Stewart, author of The Fading Flower and Swallow the Sun
"Readers will find strips that will

make them laugh

,

make them cry

,

give them hope

, and most importantly,

make them think

." —Andrew Hamilton, Association for Mormon Letters
"Enid is able to

affect us in such a powerful way

." —Steve Evans, By Common Consent
"Enid, a weird Mormon girl with an active imagination who is always contemplating the meaning of life as she tries understand the purpose of her existence and her place in the world, is the Calvin and Hobbes for the internet generation of Mormons." —Andrew Hamilton, Association for Mormon Letters
"

This graphic novel is a great one for parents to share with their teenagers

. . . . the stories open the door for discussions on life's trials, doubt and faith, relationships, and going through tough times with the help of friends and a great bishop.

" —Gerald Smith

, 

Millennial Star
"

There is so much good to Enid, so much familiar Mormon weirdness, and yet so much that is faith promoting and heart-warming, that it would be a great read for any young woman. It's equally

great for weird Mormons of all ages

.

" —Angela C.

, 

By Common Consent
"

Everyone feels somewhat out-of-place in their communities. Everyone has something in their life that makes them feel less than ideal. Everyone is searching for identity, for home.

The relatability of Enid is what makes the comic so endearing

.

" —Walker Wright

, 

Worlds Without End
"[Enid] faces hardship and heartbreak with courage . . .  she is literally setting out on a quest as real as any mythic hero's.

It's funny, it's tender, it's real, it's oh-so-Mormon

." —Ardis Parshall, Keepapitchinin
"

Just as Calvin and Hobbs, Peanuts, and other influential comics captured a moment of societal concerns that reaches beyond the brackets of those times,

Enid captures something essential about Mormonism in the early twenty-first century

. . . .  Kofford Books has blessed us as a community by collecting these into two volumes.

"


—Steven Peck, Dialogue: A Journal of Mormon Thought

"Enid's experiences and thoughts ring true to the turmoil of any young woman; for the author, a father of four young kids, to be so in tune with the indecisiveness of teen girl years is remarkable. . . .

Hales skillfully portrays the heart of a teenage girl

and helps us relate to her as Enid is learning to relate to the other women in her life."
—Brittany Long Olsen, Dialogue: A Journal of Mormon Thought
---
About the Author:
Scott Hales is a writer and cartoonist from Cincinnati, Ohio. He is the creator of the webcomics
The Garden of Enid: Adventures of a Weird Mormon Girl
and
Mormon Shorts
. Scott has an MA and PhD in English from the University of Cincinnati and a BA in English from Brigham Young University. He has published on American literature, comics, and Mormon fiction and poetry in various journals, including
The Edgar Allan Poe Review
,
International Journal of Comic Art
, and
Religion and the Arts
. He has also published fiction and comics in
Dialogue: A Journal of Mormon Thought
and
Sunstone
. Scott currently lives in Utah with his wife, Sarah, and five children.
---
More Information:
168 Pages
ISBN 978-1-58958-562-1 (Paperback)
Published November 2016