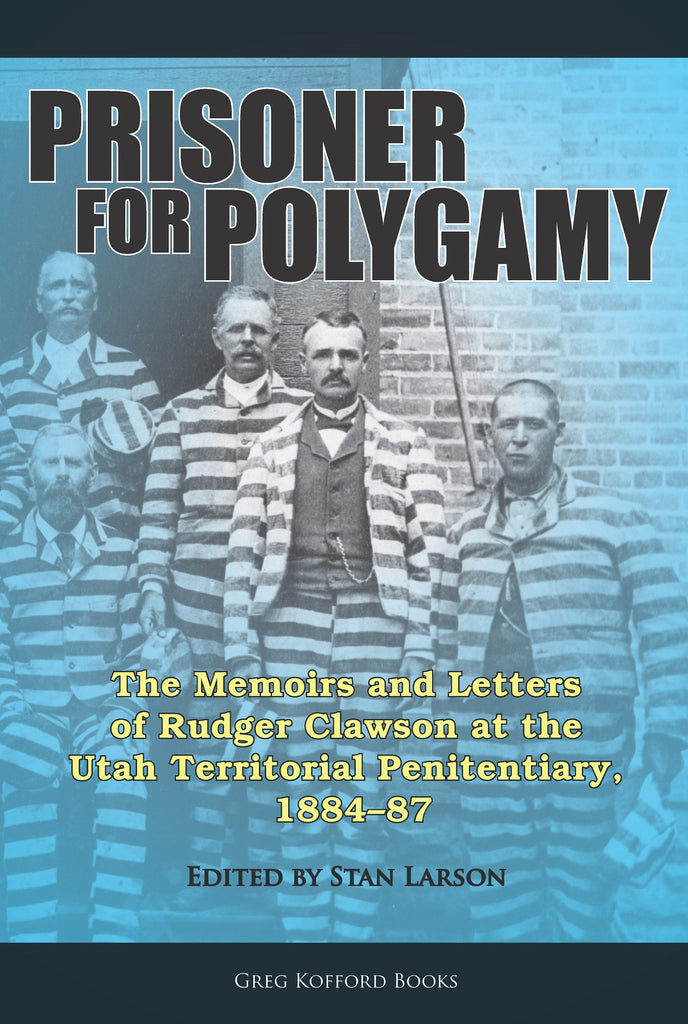 Prisoner for Polygamy: The Memoirs and Letters of Rudger Clawson at the Utah Territorial Penitentiary, 1884-87
$29.95
Edited By
Stan Larson
---
Available in ebook for Kindle, Nook, Apple, Google Play, and Kobo.
---
Also available through Amazon.
---
Book Description:
Rudger Clawson (1857–1943) was the first Mormon convicted of being in violation of the Edmund–Tucker Act, which outlawed polygamy. Born into a polygamous family, Clawson married Florence Dinwoodey in August 1882, Lydia Spencer is March 1883, and eventually entered into a "post-Manifesto union" with Pearl Udall in 1904.
     Clawson, a prominent member of the Church of Jesus Christ of Latter-day Saints, served in the LDS Church as missionary, stake president, apostle, president of the Quorum of the Twelve Apostles, and counselor in the First Presidency.
     This book delves into Clawson's time as a "cohab" in the Utah Territorial Penitentiary, as well as a unique look at this time in Utah's history. These prison memoirs and letters reflect the pride felt by Mormon polygamists imprisoned "for conscience sake" and include Mormon doctrinal discussions, details of their prison life, personal accounts of prison escape attempts, and the sense of frustration felt by the men as a result of being separated from their families. In addition, these memoirs show Clawson's talent for storytelling and include select love letters written by Clawson to his plural wife, Lydia.
---
Comprehensive Table of Contents:
.
INTRODUCTION
Mormon Polygamy
Clawson's Marriages, Trials, and Conviction
Clawson's Prison Life
Clawson's Prison Discussions with Apostle Lorenzo Snow
Legal Developments during Clawson's Imprisonment
Clawson's Release from Prison
Clawson's Involvement in Post-Manifesto Polygamy
The Genre of Prison Literature
DOCUMENTARY SOURCES
Part One
1. 1884
2. 1885
3. 1886
4. 1887
Aftermath
Part Two
5. Love Letters to Lydia: A Selection of Letters from Prison
Appendix I. The Families of Rudger Clawson
Appendix II. The 1884 Prison Journal of Rudger Clawson
Appendix III. Mormon Polygamists at the Utah Penitentiary
Appendix IV. Selected Diaries, Journals, and Autobiographies of Mormon Polygamists at the Utah Penitentiary
SELECTED BIBLIOGRAPHY
INDEX
---
---
About the Author:
Stan Larson received his Ph.D. from the University of Birmingham. He is the author of 
Quest for the Gold Plates: Thomas Stuart Ferguson's Archaeological Search for The Book of Mormon
, as well as editor of several titles including 
The Apostolic Diaries of Rudger Clawson, 1896–1904
 and
The Truth, The Way, The Life: An Elementary Treatise on Theology: The Masterwork of B. H. Roberts
. He has also been published in 
Dialogue,Ensign, BYU Studies, Sunstone, Journal of Mormon History, and Evangelical Quarterly.
     He is currently the Curator of Manuscripts at the University of Utah's Marriott Library.
---
More Information:
262 pages
ISBN: 9781589582484 (Paperback)
Published March 2012