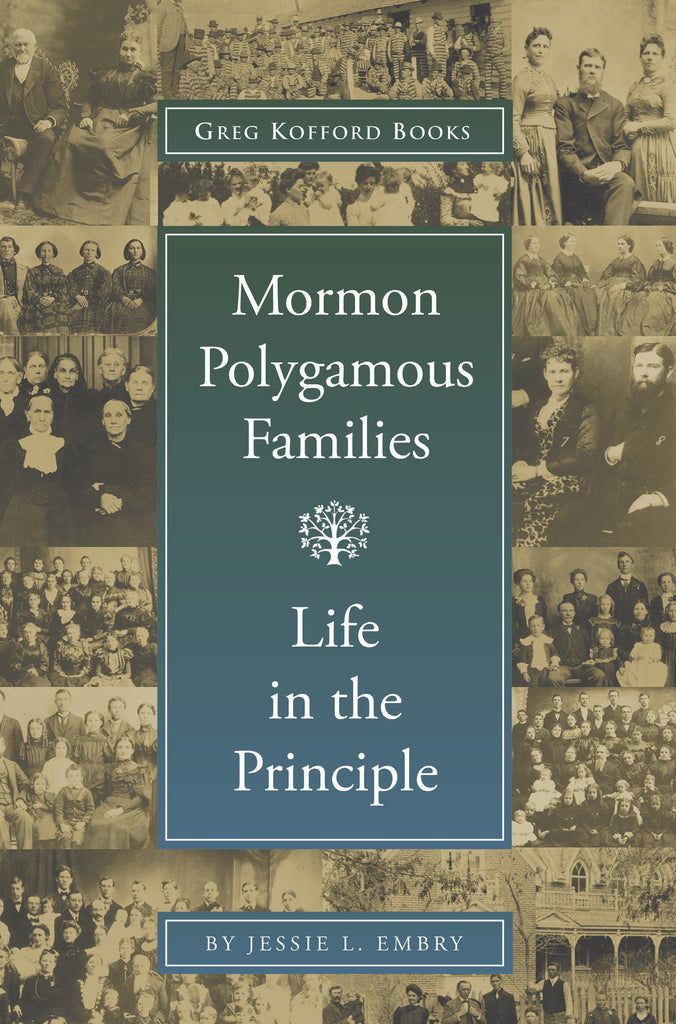 Mormon Polygamous Families: Life in the Principle, 2nd ed.
$24.95
By
Jessie L. Embry
---
Available in ebook for Kindle, Nook, Apple, Google Play, and Kobo.
---
Also available through Amazon.
---
Book Description:
Mormons and non-Mormons all have their views about how polygamy was practiced in the Church of Jesus Christ of Latter-day Saints during the late nineteenth and early twentieth centuries. Embry has examined the participants themselves in order to understand how men and women living a nineteenth-century Victorian lifestyle adapted to polygamy. Based on records and oral histories with husbands, wives, and children who lived in Mormon polygamous households, this study explores the diverse experiences of individual families and stereotypes about polygamy.The interviews are in some cases the only sources of primary information on how plural families were organized. In addition, children from monogamous families who grew up during the same period were interviewed to form a comparison group. When carefully examined, most of the stereotypes about polygamous marriages do not hold true. In this work it becomes clear that Mormon polygamous families were not much different from Mormon monogamous families and non-Mormon families of the same era. Embry offers a new perspective on the Mormon practice of polygamy that enables readers to gain better understanding of Mormonism historically.
---
Comprehensive Table of Contents:
.
Preface to Second Edition
Introduction
1. The Practice of Polygamy Worldwide and Among the Latter-day Saints
Old Testament Polygamy
Polygamy During the Sixteenth, Seventeenth, and Eighteenth Centuries
Mormon Polygamy
Opposition to Polygamy
Adaptation to Antipolygamy Laws
2. The Impact of the Antipolygamy Laws
The Underground
Mormon Polygamy in Mexico and Canada
3. Demographic Characteristics of Mormon Polygamous Families
Studies on Mormon Polygamy
Characteristics of Sampled Polygamous Families
Geographical Variations
4. Motivations for Practicing Polygamy
Religious Motivations
Folk Justifications
Sexual Motivations
5. Entering Plural Marriage
Case Studies
The First Wife's Consent
Deciding to Be a Plural Wife
Church Encouragement and Approval for Polygamous Marriages
Courtship
6. Living Arrangements and Visiting Patterns
Living Arrangements and Visiting Patterns in Other Polygamous Societies
Mormon Household Patterns
Visiting Schedules
Memories of Father/Husband Visits
Church Attendance and Social Occasions
7. Daily Life and Family Roles
Male Roles and Occupations
Female Roles and Occupations
Division of Labor
Children's Roles
Wives and Children Outside Traditional Roles
8. Church Positions and Religious Activity
Church Attendance
Comparison of Positions Held by Polygamous and Monogamous Men
Comparison of Positions Held by Polygamous and Monogamous Women
Family Religiosity
Family Celebrations
9. Relationships of Wives and Husbands
Allocation of Economic Resources
Demonstration of Affection
Separation and Loneliness
Husbands' Views of Wives' Relationships
Resolution of Marital Conflicts
Factors That Made Plural Marriage Work
Comparison of Monogamous and Polygamous Relationships
10. Relationships between Wives
Harmonious Relations
Sororal Polygamy
Jealousies and Conflicts
Role and Personality Variations
Reactions to Illness and Death
11. The Children of Plural Families
Mother-Child Relationships
Father-Child Relationships
Relationships with Other Wives
Relationships with Monogamous Stepmothers
Disciplining Children
Sibling Relationships
12. Divorce and Inheritance in Plural Families
Divorce Among Mormon Polygamists
Reasons for Divorce
Inheritance
13. Participant Evaluation of Polygamy
The Female Point of View
The Male Point of View
Children's Views of Polygamy
Measuring the Success of Mormon Polygamous Families
Bibliography
Index
---
---
About the Author:
Jessie L. Embry
is the associate director of the Charles Redd Center for Western Studies and an associate research professor at Brigahm Young University. She is the author of eight books and over 100 articles on oral history, western American history, and ethnic Mormon history. She has just published a book, Mormons and Polygamy, as part of a series to answer questions about Mormonism.
---
More Information:
340 pages
ISBN: 978-1-58958-098-5 (paperback)
ISBN: 978-1-58958-114-2 (hardcover)
Published in 2008