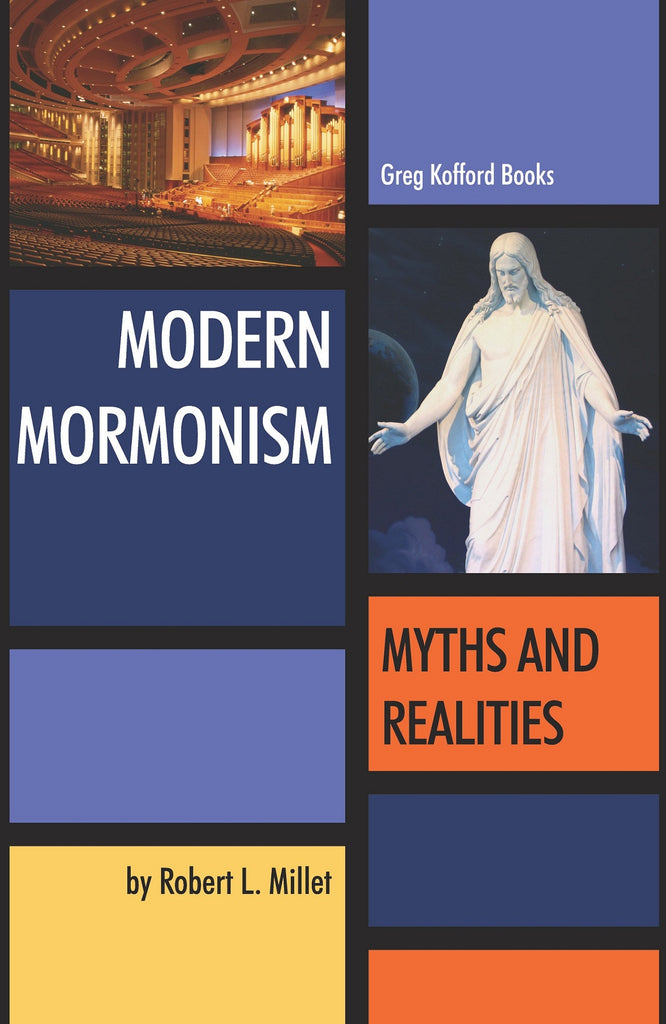 Modern Mormonism: Myths and Realities
$14.95
By Robert L. Millet
---
"This book will give insight to both a general Christian audience and to Latter-day Saints in how to engage in friendly conversation with each other."

— BYU Studies
---
Available in ebook for Kindle, Nook, Apple, Google Play, and Kobo.
---
Book Description:
What answer may a Latter-day Saint make to accusations from those of other faiths that "Mormons aren't Christians," or "You think God is a man," and "You worship a different Jesus"? Not only are these charges disconcerting, but the hostility with which they are frequently hurled is equally likely to catch Latter-day Saints off guard.
     Now Robert L. Millet, veteran of hundreds of such verbal battles, cogently, helpfully, and scripturally provides important clarifications for Latter-day Saints about eleven of the most frequent myths used to discredit the Church. Along the way, he models how to conduct such a Bible based discussion respectfully, weaving in enlightenment from LDS scriptures and quotations from religious figures in other faiths, ranging from the early church fathers to the archbishop of Canterbury.
     Millet enlivens this book with personal experiences as a boy growing up in an area where Mormons were a minuscule and not particularly welcome minority, in one-on-one conversations with men of faith who believed differently, and with his own BYU students who also had lessons to learn about interfaith dialogue. He pleads for greater cooperation in dealing with the genuine moral and social evils afflicting the world, and concludes with his own ardent and reverent testimony of the Savior.
---
Comprehensive Table of Contents:
.
Introduction
1. A Finite God
Distinctive LDS Views
Absolute Truth
Conclusion
2. Not Christian
Everlastingly the Same
Conclusion
3. Contradicting the Bible
The Sufficiency of the Bible
The Spirit Underlying Scripture
Supplementation, Not Contradiction
Conclusion
4. Feelings, Not Facts
A Different Kind of Evidence
Conclusion
5. Disdain for Other Churches
Building Bridges
A Larger Umbrella
"Convicted Civility"
A Sense of Responsibility
Conclusion
6. Denying the Fall
Fallen Humanity
Good or Evil?
Prevenient Grace
Conclusion
7. Ignoring the Cross
Free Salvation
Gethsemane
Golgotha
Conclusion
8. Works Righteousness
Through His Merits
Faith in Christ
Grace and Works
Conclusion
9. Universal Salvation
Understanding Death
The Postmortal Spirit World
Resurrection and Judgment
Degrees of Glory
Conclusion
10. Usurping the Divine Throne
Becoming like God
Deification
Conclusion
11. No Eternal Security
Ships Passing
The "Earnest" of the Spirit
Saved Today
Conclusion
12. Retrospect and Prospect
Appendix: The Testimony of Latter-day Saint Leaders on Jesus Christ
Joseph Smith (1805–44)
Brigham Young (1801–77)
John Taylor (1808–87)
Wilford Woodruff (1807–98)
Lorenzo Snow (1814–1901)
Joseph F. Smith (1838–1918)
Heber J. Grant (1856–1945)
George Albert Smith (1870–1951)
David O. McKay (1873–1970)
Joseph Fielding Smith (1876–1972)
Harold B. Lee (1899–1973)
Spencer W. Kimball (1895–1985)
Ezra Taft Benson (1899–1994)
Howard W. Hunter (1907–95)
Gordon B. Hinckley (1910–2007)
Thomas S. Monson (1927– )
Bibliography
Frequently Cited LDS Sources
Sources
Subject Index
Scripture Index
---
---
Praise for Modern Mormonism:
"Perhaps above all, Millet hopes to encourage believers to dialog with charity and respect. He cites the biblical injunction that believers should "be prepared to give an answer to everyone who asks you to give the reason for the hope that you have," but he adds the less-cited remainder of that injunction: "But do this with gentleness and respect" (1 Peter 3:15, NIV, emphasis Millet's, p. 99). Millet believes personal relationships built on more than questioning will infuse conversations with more love and concern...He seeks participatory, constructive dialog more than reactive or aggressive response. Whether one agrees with his theology or interpretations, one can still appreciate his cultivation of atmosphere." — Blair Hodges, Association for Mormon Letters.
"This book will give insight to both a general Christian audience and to Latter-day Saints in how to engage in friendly conversation with each other. Millet's book is an example of how to give others the maximum benefit of the doubt while at the same time sticking to our doctrinal guns, so to speak." — James T. Summerhayes, BYU Studies
---
About the Author:
Robert L. Millet is Abraham O. Smoot University Professor and Professor of Ancient Scripture at Brigham Young University. Before joining the BYU religious education faculty in 1983, he worked with LDS Social Services as a marriage and family counselor and later with LDS Seminaries and Institutes of Religion as a religious instructor. He received his bachelor's and master's degrees in psychology from BYU and his Ph.D. in Religious Studies from Florida State University.
     At BYU, Professor Millet has served as chair of the Department of Ancient Scripture, dean of Religious Education, Richard L. Evans Professor of Religious Understanding, and Director of Publications for the BYU Religious Studies Center. He is the author of more than sixty books and 150 articles, book chapters, and reviews dealing mostly with the doctrine and history of the Church of Jesus Christ of Latter-day Saints and its relationship to other religious traditions.
     Robert and Shauna Millet have six children and ten grandchildren and reside in Orem, Utah.
---
More Information:

Pages: 142
ISBN: 978-1-58958-127-2 (Paperback)
Published October 2011