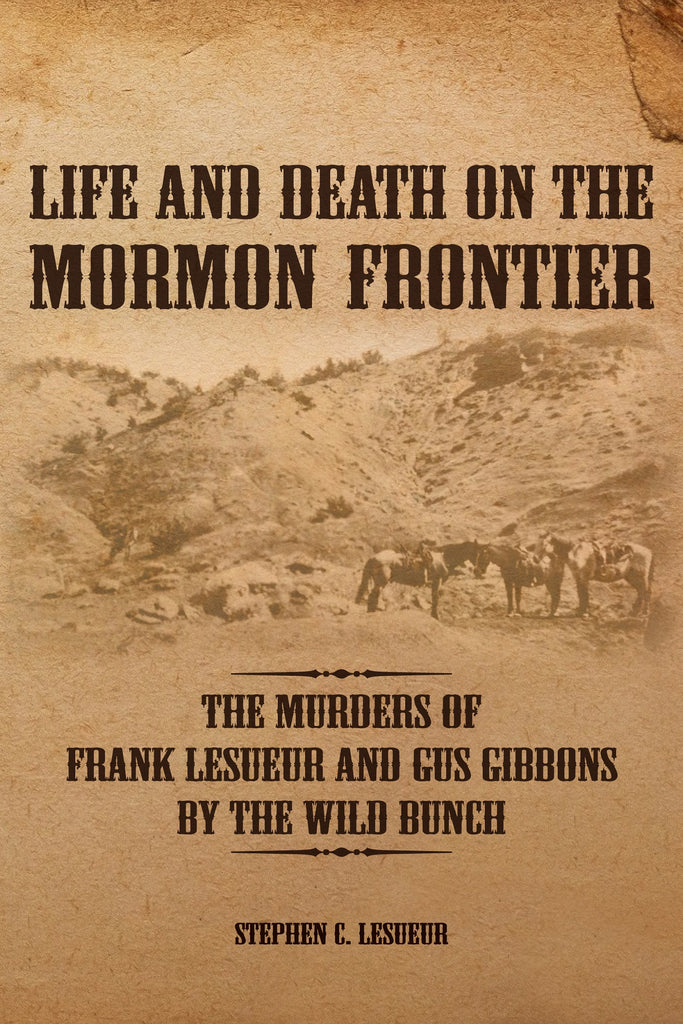 Life and Death on the Mormon Frontier: The Murders of Frank LeSueur and Gus Gibbons by the Wild Bunch
$32.95
by
Stephen C. LeSueur
---
Now available in paperback and ebook
---
"A compelling, deeply researched, and well-written study that will grab the attention of Old West historians."

— Daniel Buck

"LeSueur punctures popular myths about the Wild Bunch, but the true history of poverty, faithfulness, criminality, and family is more compelling and just as wild. It's a hard book to put down."

— John G. Turner
"Unlike romanticized versions of Western bandits, Life and Death on the Mormon Frontier portrays a grittier, authentic Old West in a manner that draws the reader into another era." — Gregory A. Prince
---
Available in ebook for Kindle, Apple, Google Play, and, Kobo.
---
Also available through Amazon and Benchmark Books.
---
Download a free sample preview.
---
Book Description:
This thoroughly researched and vivid account examines a murderous spree by one of the West's most notorious outlaw gangs and the consequences for a small Mormon community in Arizona's White Mountains.
On March 27, 1900, Frank LeSueur and Gus Gibbons joined a sheriff's posse to track and arrest five suspected outlaws. The next day, LeSueur and Gibbons, who had become separated from other posse members, were found brutally murdered. The outlaws belonged to Butch Cassidy's Wild Bunch gang. Frank LeSueur was the great uncle of the book's author, Stephen C. LeSueur.
In writing about the Wild Bunch, historians have played up the outlaws' daring heists and violent confrontations. Their victims serve primarily as extras in the gang's stories, bit players and forgotten names whose lives merit little attention. Drawing upon journals, reminiscences, newspaper articles, and other source materials, LeSueur examines this episode from the victims' perspective. Popular culture often portrays outlaws as misunderstood and even honorable men—Robin Hood figures—but as this history makes clear, they were stone-cold killers who preferred ambush over direct confrontation. They had no qualms about shooting people in the back.
The LeSueur and Gibbons families that settled St. Johns, Arizona, served as part of a colonizing vanguard for the Church of Jesus Christ of Latter-day Saints, popularly known as Mormons. They contended with hostile neighbors, an unforgiving environment, and outlaw bands that took advantage of the large mountain expanses to hide and escape justice. Deprivation and death were no strangers to the St. Johns colonizers, but the LeSueur-Gibbons murders shook the entire community, the act being so vicious and unnecessary, the young men so full of promise.
By focusing the historian's lens on this incident and its aftermath, this exciting Western history offers fresh insights into the Wild Bunch gang, while also shedding new light on the Mormon colonizing experience in a gripping tale of life and death on the Arizona frontier.
---
Table of Contents:
.
Introduction
1. The Unfolding of God's Plan Across Arizona
2. Butch Cassidy and the Wild Bunch
3. A Plague of Cowboys and Outlaws
4. Pursuing Five Men for Killing a Beef
5. Burying Frank and Gus
6. Hunt for the Killers
7. Called to Another Mission
8. A Reckoning for Sheriff Beeler
9. Justice Denied
10. Serving an Honorable Mission
11. Rendezvous with Death
Afterword
Acknowledgments
Works Cited
Additional Resources
Index
---
Praise for Life and Death on the Mormon Frontier:
"Stephen LeSueur takes the reader on a ride into the dark, murderous world of the Wild Bunch in the Mormon settlements of the Utah-Arizona frontier.

A compelling, deeply researched, and well-written study that will grab the attention of Old West historians

." — Daniel Buck, co-author of The End of the Road: Butch Cassidy and the Sundance Kid in Bolivia
"Stephen LeSueur unearths the circumstances that led a gang of outlaws to kill Frank LeSueur (the author's great-uncle) and Gus Gibbons near St. Johns, Arizona, in 1900.

LeSueur punctures popular myths about the Wild Bunch, but the true history of poverty, faithfulness, criminality, and family is more compelling and just as wild. It's a hard book to put down

." — John G. Turner, author of Brigham Young: Pioneer Prophet
"Readers wishing to understand something of the reality of the effect of outlaws on the lives of ordinary people in the Old West should add this book to their collection.

Highly recommended.

" — Mike Bell, The Tombstone Epitaph
"Unlike romanticized versions of Western bandits, Life and Death on the Mormon Frontier

portrays a grittier, authentic Old West in a manner that draws the reader into another era

. As a descendant of one of the many victims of Butch Cassidy's Wild Bunch, LeSueur thoroughly and compellingly recounts the murder and its devastating effect on the family—something often overlooked. In the current climate of winking at contemporary scofflaws, it is good to be reminded that character still counts—and that its opposite still destroys." — Gregory A. Prince, author of David O. McKay and the Rise of Modern Mormonism and Leonard Arrington and the Writing of Mormon History
"Life and Death on the Mormon Frontier is a great book. In my own writing about Mormon explorer Jacob Hamblin, I was struck by how Hamblin was relatively unknown in Western history, yet outlaws such as Billy the Kid (and Butch Cassidy) were famous. While certainly outlaws are part of Western history, their lives make a striking contrast with law-abiding settlers who farmed, ranched, raised families. That theme really comes out in this book, as Stephen LeSueur tells the story of the Wild Bunch, often viewed as charming Robin Hoods, and shows they were really brutal murderers. He brings to vivid life the two victims of the Wild Bunch, Frank LeSueur and Gus Gibbons, and their families, who lived in St. Johns, Arizona in the late 1800s.  

This is a superb example of revisionist western history.

" — Todd M. Compton, author of A Frontier Life: Jacob Hamblin, Explorer and Indian Missionary
"

Life and Death on the Mormon Frontier

is

an invaluable resource, and a wonderful account of what life on the Arizona frontier was like

, particularly for those early Mormon colonizers." — Richard Ji,

Association for Mormon Letters
---
About the Author:
Stephen C. LeSueur
is a former journalist and magazine editor. His book,
The 1838 Mormon War in Missouri
(University of Missouri Press) won the 1987 Best Book award from the John Whitmer Historical Association. He has written extensively on Mormon history, including a chapter for
Excavating Mormon Pasts: The New Historiography of the Last Half Century
(Greg Kofford Books). He and his wife, Kathy, live in Arlington, Virginia.
---
More Information:
331 pages
ISBN 978-1-58958-772-4 (paperback)
Press sheet