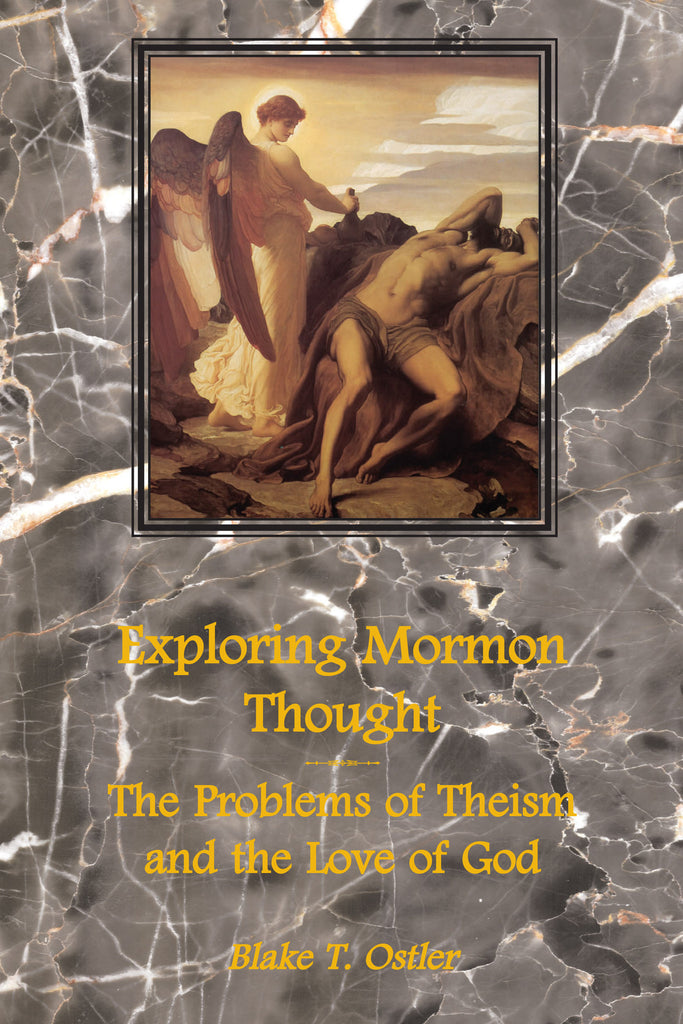 Exploring Mormon Thought: Volume 2, The Problems of Theism and the Love of God
$34.95
by
Blake T. Ostler
---
"These books are the most important works on Mormon theology ever written." — FARMS Review, Neal A. Maxwell Institute, Brigham Young University
"This may be the most exciting volume to come out on Mormon theology ever." — Association for Mormon Letters
"Anyone who thinks seriously about the meaning of LDS doctrine should read it. It is a book that will take some time to unpack and some time for its influence to be felt." — BYU Studies
---
Available in ebook for the Kindle, Nook, Apple, Google Play, and Kobo.
---
Book Description:
In volume 2 of the series, 
Exploring Mormon Thought: The Problems of Theism and the Love of God
, Blake Ostler explores issues related to soteriology, or the theory of salvation. He argues that the commitment that God loves us and respects our dignity as persons entails that God must leave us free to choose whether to have a saving relationship with him. He explores the "logic of love" and argues that the LDS doctrine of a "war in heaven" embodies the commitment that God leaves us free to choose whether to enter into relationship with God. He explores the nature of inter-personal prayer and the contributions of LDS beliefs to a robust prayer dialogue. He offers a view consistent with LDS commitments that makes sense out of asking God to assist others, to alter the natural environment and to grow in relationship with God. 
     He then turns to the concept of grace and argues that the traditional views lead to insurmountable problems. He argues that though God does not owe any obligation to us to give us grace, God does so out of love. However, because divinity arises from loving relationships, he argues that God could not fail to give sufficient grace to all persons and remain a loving God.
---
Comprehensive Table of Contents:
.
Publisher's Note
PREFACE
1. MORMONISM AND THE NATURE OF DIVINE LOVE
Mormonism and God's Love
The Logic of Love
The I-Thou Relation
Unconditional Love and Fellowship
2. PROVIDENCE AND PRAYER
The Problem of Prayer
A Relational Solution
Prayer to an All-Controlling God
Manipulative Love?
Divine Openness and Petitionary Prayer
Mormonism and the Problem of Prayer
3. THE RELATION OF MORAL OBLIGATION AND GOD IN LDS THOUGHT
Beckwith's Argument
Why Beckwith's Argument Necessarily Unsound
Are Moral Laws Logically Dependent On God's Nature?
Is God a Morally Perfect Being?
Beckwith's Equivocation in His Use of "God"
The Possibilities of Ethics in LDS Thought
An LDS Teleological Ethic?
The Human Rights Objection
The Distributive-Justice Objection
The Genuine Friendship Objection
A Duty-Based LDS Ethic?
The Overbroad Rule Argument
The Underinclusive Value Argument
Egoistic Theories
An LDS Agape Theory of Ethics in Alignment with the Gospel of Christ
4. THE IMPLAUSIBILITY OF ORIGINAL SIN
The Traditional Paradigms of Original Sin
Can We Be Guilty For the Acts of Another?
5. SIN AND THE UNCIRCUMSISED HEART
LDS Light on Original Sin
Epistemological Assumptions of Moral Obligation
Ego Maintenance, Self-Deception, and Authenticity
The Bondage of Sin and Agency
6. SOTERIOLOGY IN LDS THOUGHT
LDS Soteriological Terminology
The Vision
Faith unto Repentance
Atonement
Atonement, Justice, and Mercy
Infinite Atonement
Prevenient Grace in LDS Scripture
The Grace of Life and Light
Ritual Expression of Atonement
Transferring the Pain of our Sins to Christ
7. THE COMPASSION THEORY OF ATONEMENT
God's Compassion in Atonement
Distinctive Claims of the Compassion Theory of Atonement
Reconciling Humans to God
Reconciling God to Humans
Christ's Suffering as a Result of Our Sins
Theories of Atonement
The Ransom Theory
The Satisfaction Theory
The Moral Influence Theory
The Moral Example Theory
The Governmental Theory
The Penal Substitution Theory
8. HONOR, SHAME, AND THE RIGHTEOUSNESS OF GOD
Moral Obligation and Honor and Shame
Paul's Doctrine of Justification as God's Honoring Covenant
9. SELF-DECEPTION AND JUSTIFICATION BY FAITH
The New Perspective on Paul
James as a Critique of Self-Deceived Paulinism
Mormonism and the New Perspective on Paul
Appendix A
Appendix B
10. THE PROBLEM OF GRACE
The Problem of Imputed Righteousness
The Problem of Infused Righteousness
The Problem of Predestination
Does God Owe Obligations?
Universal Love and Obligations
11. THE OPERATIONS OF GRACE AND FREE WILL
Grace and Free Will in Interpersonal Relations
Free Will and Irresistible Grace
Concurring Grace
The Incompatibility of Free Will and Creatio Ex Nihilo
The First Argument: The Incompatibility of Divine Sustenance and Free Will
The Second Argument: The Impossibility of God's Actualizing Agents with Free Will
Conclusion
12. GOD THE ETERNAL FATHER
The Scriptural Argument
The King Follett Discourse
The Sermon in the Grove
Why Would a Divine Person Become Mortal?
BIBLIOGRAPHY
SUBJECT INDEX
SCRIPTURE INDEX
Old Testament
New Testament
Book of Mormon
Doctrine and Covenants
Pearl of Great Price
---
---
Praise for the Exploring Mormon Thought series:
"These books are the most important works on Mormon theology ever written. There is nothing currently available that is even close to the rigor and sophistication of these volumes. B. H. Roberts and John A. Widtsoe may have had interesting insights in the early part of the twentieth century, but they had neither the temperament nor the training to give a rigorous defense of their views in dialogue with a wider stream of Christian theology. Sterling McMurrin and Truman Madsen had the capacity to engage Mormon theology at this level, but neither one did." — FARMS Review, Neal A. Maxwell Institute, Brigham Young University

"This may be the most exciting volume to come out on Mormon theology ever. I eagerly await it as I think it will demonstrate a maturity of Mormon theology in that it will take 'as given' a presentation of the basics of Mormon thought. One hopes that other authors will present engagements with other major thinkers such as Heidegger, Gadamer, Derrida, or others. However clearly before one can move on to this more 'mature' level of discourse, the beginnings have to be established. While I'm sure other writers may take exception to some of Blake's positions in this first volume, he clearly is blazing the trail in an exciting way. Further it opens up to non-Mormons a clear and lucid presentation of Mormon theology that one can't get from most other writings." — Clark Goble, Association for Mormon Letters

"I hope that Ostler's work finds a wide audience within the Church.

Anyone who thinks seriously about the meaning of LDS doctrine should read it

. It is a book that will take some time to unpack and some time for its influence to be felt." — James McLachlan, BYU Studies
---
Other Volumes in the Exploring Mormon Thought Series:
Volume 1, The Attributes of God
Volume 3, Of God and Gods
---
About the Author:
Blake T. Ostler is a practicing attorney specializing in educational law, employment law and intellectual property. He holds a J.D. from the University of Utah. His books include the EXPLORING MORMON THOUGHT series and Fire on the Horizon: Meditations on the Endowment and Love of Atonement. He has published widely on Mormon philosophy in journals such as Religious Studies, International Journal for the Philosophy of Religion, Dialogue: Journal of Mormon Thought, BYU Studies and FARMS Review of Books.
---
More Information:
Pages: 503
ISBN: 978-1-58958-095-4 (Hardcover)
Published March 2006