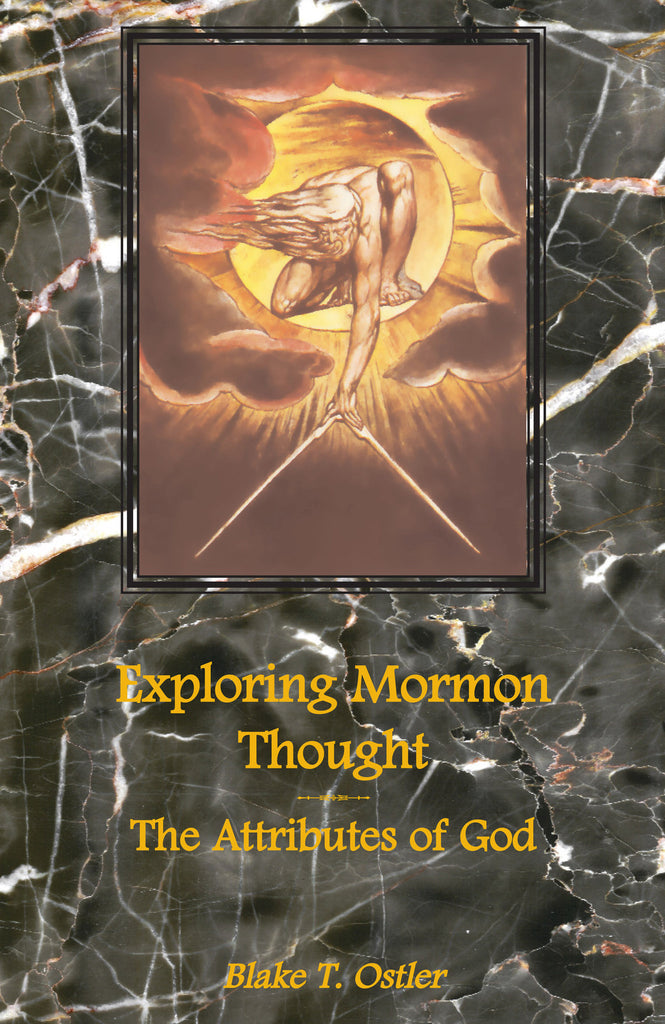 Exploring Mormon Thought: Volume 1, The Attributes of God
$29.95
by
Blake T. Ostler
---
"These books are the most important works on Mormon theology ever written." — FARMS Review, Neal A. Maxwell Institute, Brigham Young University
"This may be the most exciting volume to come out on Mormon theology ever." — Association for Mormon Letters
"Anyone who thinks seriously about the meaning of LDS doctrine should read it. It is a book that will take some time to unpack and some time for its influence to be felt." — BYU Studies
---
Available in ebook for the Kindle, Nook, Apple, Google Play, and Kobo.
---
Also available through Amazon.
---
Book Description:
In this first volume Blake T. Ostler explores Christian and Mormon notions about God. Written for both Mormons and non-Mormons interested in the relationship between Mormonism and classical theism, his path-breaking 
Exploring Mormon Thought: The Attributes of God
 is a critique of classical theism regarding some of the central concepts that have formed the Christian understanding of God. He deals with questions of traditional philosophical theology including free will and foreknowledge, the nature of God and Christology. The approach to these questions is from the analytic philosophical tradition and includes detailed arguments relating to the coherence of Christian belief, scripture and practice. However he recognizes that religious faith is far more a product of intimacy with the divine than of ultimacy of reason, more a product of relationships than of logical necessities.
     He provides an overview of the most influential Christian notions of deity, exploring themes and resources within this discourse that might be helpful to Latter-day Saint explorations. Also highlighted are various perspectives within Mormonism itself including a detailed analysis of Joseph Smith's Lectures on Faith and discussion of the thought of Orson and Parley Pratt, B. H. Roberts and John Widstoe. Earlier Mormon thought is demonstrated to have included a concept of God as a being in process. He suggests areas in which Mormon approaches to questions about free agency and God's omnipotence might suggest resolutions to some of the difficult issues that have troubled theologians and philosophers for centuries. For the first time ever Ostler formulates a systematic Mormon Christology.
---
AuthorCast Interview with the Author:
---
Comprehensive Table of Contents:
.
PREFACE
FOREWORD
1.THE MEANING OF "GOD" IN MORMON THOUGHT
What Does "God" Mean in Mormon Discourse?
Attribute and Essence
Is "God" a Title or a Name?
God and Monotheism
The Divine Thou
Subordinate "Gods"
Apotheosis: Human Gods
"God" as a Relationship of Unity Among a Plurality of Persons
God and Perfection
God and Possible Worlds
2.THE APOSTASY AND CONCEPTS OF PERFECTION
Confluence of Greek Philosophy and Christian Theology
A. Emergence of the Absolutist Tradition in Christian Theology
B. The Logic of Absolute Independence
1. Pure Actuality
2. Divine Simplicity
3. Immutability
4. Timeless Eternity
5. Aseity
6. Impassibility
7. Omniscience
8. Omnipotence
C. Process Thought
1. Relative Perfection
2. Perfect Relatedness
3. Potentiality
4. Proportional Dependence
5. Complexity
6. Temporality
7. Mutability and Immutability
8. Passibility
9. Creator by Organizing
10. Maximal Persuasive Power
11. Maximal Knowledge

3.THE RESTORATION AND SYSTEMATIC THEOLOGIES
The Lectures on Faith
Joseph Smith and the Foundational Scriptures
The Theology of Orson Pratt and Parley P. Pratt
John A. Widtsoe
Brigham H. Roberts
Neo-absolutist Mormonism
4.MAXIMAL DIVINE POWER
Logical Limitations on God's Power
Limitations on God's Power Arising from Divine Attributes
Limitations on God's Power Imposed by Significant Human Freedom
Past Necessity and Divine Power
Problems for Omnipotence
Persuasive and Coercive Power
God's Power and Natural Laws
God's Power and Creation
Conclusion
5.MODELS OF DIVINE KNOWLEDGE
Simple Foreknowledge
Timeless Knowledge Through Perception
The Einstein-Minkowski Spacetime
Timeless Knowledge Through Divine Causation
Middle Knowledge
Problems of Middle Knowledge
The No-Grounds Objection
Counterfactuals of Freedom Are Probable Only
The "Agents Are Not Free" Objection
Mormonism and Middle Knowledge
6.THE INCOMPATIBILITY OF FREE WILL AND INFALLIBLE FOREKNOWLEDGE
An Unsound Argument for Incompatibility
Argument A
A Sound Argument for Incompatibilism from the Necessity of the Past
Argument B
Some Clearly Unsuccessful Attempts to Escape Incompatibility
7.DIVINE FOREKNOWLEDGE AND THE MORMON CONCEPT OF FREE AGENCY
Hypothetical Free Will
Libertarian Free Agency
Objections to Power to Do Otherwise
Semi-Compatibilism
Intervention after an Effective Interaction Is Formed
Intervention before an Effective Intention Is Formed
Is Intervention Possible before an Intention Is Effective?
Is Causal Determinism Essential to Free Acts?
A Mormon Concept of Free Agency
8.DENYING ENTAILMENT
Molina's Response
Power Entailment
Criticisms of Power Entailment Principles
Power to Bring About the Past
9.DENYING THAT GOD'S PAST KNOWLEDGE IS FIXED
Distinguishing Logical and Theological Fatalism
Argument D
Hard Facts As Intrinsic Properties of Past Events
Does the Doctrine of Timelessness Resolve the Incompatibility?
Multiple Past Compatibilists
10. GOD'S CONTINGENT KNOWLEDGE
Is Contingent Omniscience Consistent with Scripture?
Is Contingent Omniscience Compatible with a Spatio-Temporally Limited God?
Does Contingent Knowledge Entail Imperfection?
Must God Know Future Contingent Propositions?
11.TIME, TIMELESSNESS, AND OMNITEMPORALITY
Everlasting Time
Measured Time
The Theory of Relational Time
Temporality
The Theory of Absolute Time
Simultaneity
Relative Space-Time
Defining Timeless Eternity
Implications of Divine Timelessness
Problems with Divine Timelessness
Reasons to Adopt Divine Timelessness
God's Omnitemporality
Conclusion
12.IMMUTABILITY AND IMPASSIBILITY
Defining Changelessness
Immutability in Nature
Immutability in Will
Immutability and Mutability in God's Knowledge
Divine Passibility in Feeling
1. The Argument of Divine Love
2. The Argument from Immanent Omniscience
3. The Argument from Worshipworthiness
13.THE PROBLEMS OF CONVENTIONAL CHRISTOLOGY
The Historical Problem
The Logical Problem
The Christological Controversy
Traditional Responses
The Kenotic Theory
The Grace Theory
14.A MORMON CHRISTOLOGY
Distinctive Doctrines of Mormon Scripture
A Modified Kenotic Theory of Christology
God's Necessary Existence
The Necessity of Condescension and Kenosis
Are Divinity and Humanity Compossible in Christ?
Time-Indexed Properties of Divinity
Was Jesus Truly Human?
The Problems of Identity
Was It Possible for Jesus to Sin?
Could Yahweh Be God If He Could Learn from Suffering?
BIBLIOGRAPHY
INDEX
---
---
Praise for the Exploring Mormon Thought series:
"These books are the most important works on Mormon theology ever written. There is nothing currently available that is even close to the rigor and sophistication of these volumes. B. H. Roberts and John A. Widtsoe may have had interesting insights in the early part of the twentieth century, but they had neither the temperament nor the training to give a rigorous defense of their views in dialogue with a wider stream of Christian theology. Sterling McMurrin and Truman Madsen had the capacity to engage Mormon theology at this level, but neither one did." — FARMS Review, Neal A. Maxwell Institute, Brigham Young University

"This may be the most exciting volume to come out on Mormon theology ever. I eagerly await it as I think it will demonstrate a maturity of Mormon theology in that it will take "as given" a presentation of the basics of Mormon thought. One hopes that other authors will present engagements with other major thinkers such as Heidegger, Gadamer, Derrida, or others. However clearly before one can move on to this more 'mature' level of discourse, the beginnings have to be established. While I'm sure other writers may take exception to some of Blake's positions in this first volume, he clearly is blazing the trail in an exciting way. Further it opens up to non-Mormons a clear and lucid presentation of Mormon theology that one can't get from most other writings." — Clark Goble, Association for Mormon Letters

"I hope that Ostler's work finds a wide audience within the Church. Anyone who thinks seriously about the meaning of LDS doctrine should read it. It is a book that will take some time to unpack and some time for its influence to be felt." — James McLachlan, BYU Studies
---
Other Volumes in the Exploring Mormon Thought Series:
Volume 2, The Problems of Theism and the Love of God
Volume 3, Of God and Gods

---
About the Author:
Blake T. Ostler
is a practicing attorney specializing in educational law, employment law and intellectual property.  His books include the EXPLORING MORMON THOUGHT series and 
Fire on the Horizon: Meditations on the Endowment and Love of Atonement. 
He has published widely on Mormon philosophy in journals such as 
Religious Studies, International Journal for the Philosophy of Religion, Dialogue: Journal of Mormon Thought, BYU Studies, Element,
and 
FARMS Review of Books
.
---
More Information:
Pages: 542 
ISBN: 978-1-58958-654-3 (paperback); 978-1-58958-003-9 (Hardcover)
Published October 2001