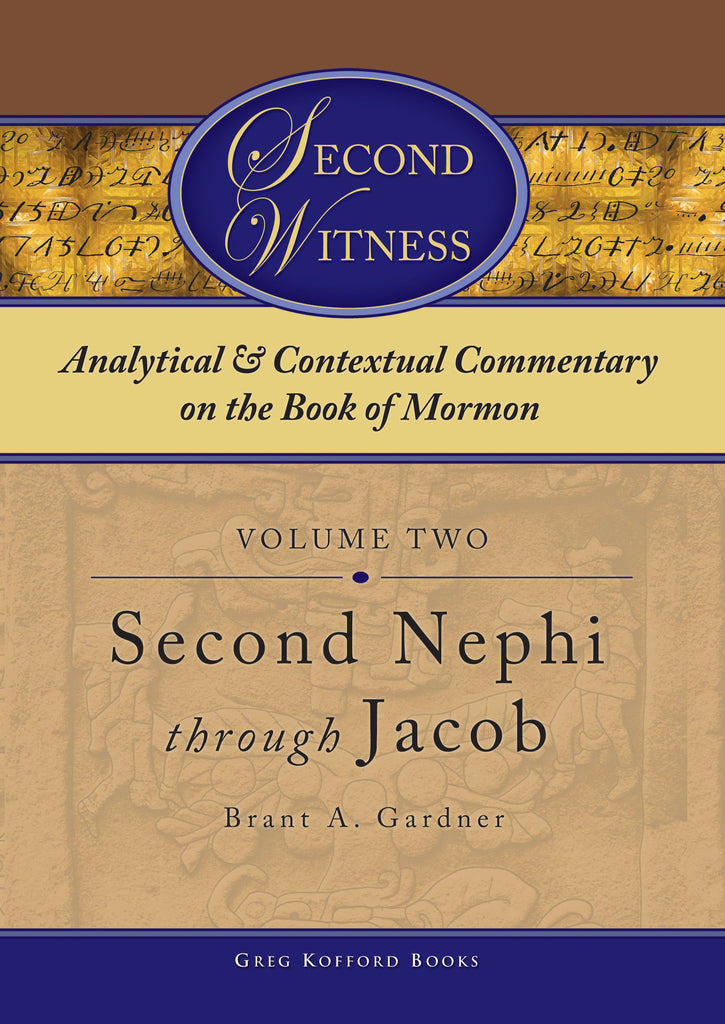 Second Witness: Volume 2: 2 Nephi–Jacob
$39.95
by
Brant Gardner
---
"No other reference source will prove as thorough and valuable for serious readers of the Book of Mormon."

— Neal A Maxwell Institute for Religious

Scholarship

, BYU
---
Available in ebook for Kindle, Nook, Apple, Google Play, and Kobo.
---
Book Description:
Stop looking for the Book of Mormon in Mesoamerica and start looking for Mesoamerica in the Book of Mormon! Second Witness, a new six-volume series from Greg Kofford Books, takes a detailed, verse-by-verse look at the Book of Mormon. It marshals the best of modern scholarship and new insights into a consistent picture of the Book of Mormon as a historical document. Taking a faithful but scholarly approach to the text and reading it through the insights of linguistics, anthropology, and ethnohistory, the commentary approaches the text from a variety of perspectives: how it was created, how it relates to history and culture, and what religious insights it provides.
     The commentary accepts the best modern scholarship, which focuses on a particular region of Mesoamerica as the most plausible location for the Book of Mormon's setting. For the first time, that location—its peoples, cultures, and historical trends—are used as the backdrop for reading the text. The historical background is not presented as proof, but rather as an explanatory context.
     The commentary does not forget Mormon's purpose in writing. It discusses the doctrinal and theological aspects of the text and highlights the way in which Mormon created it to meet his goal of "convincing . . . the Jew and Gentile that Jesus is the Christ, the Eternal God."
---
Comprehensive Table of Contents:
.
2 Nephi Part 1: Context
1. Historical Setting of 2 Nephi
2. Overview of 2 Nephi
2 Nephi Part 2: Commentary
2 Nephi 1
2 Nephi 2
2 Nephi 3
2 Nephi 4
2 Nephi 5
2 Nephi 6
2 Nephi 7
2 Nephi 8
2 Nephi 9
2 Nephi 10
2 Nephi 11
Excursus: Nephi's Isaiah Quotations
2 Nephi 12
2 Nephi 13
2 Nephi 14
2 Nephi 15
2 Nephi 16
2 Nephi 17
2 Nephi 18
2 Nephi 19
2 Nephi 20
2 Nephi 21
2 Nephi 22
2 Nephi 23
2 Nephi 24
2 Nephi 25
2 Nephi 26
2 Nephi 27
2 Nephi 28
2 Nephi 29
2 Nephi 30
2 Nephi 31
2 Nephi 32
2 Nephi 33
Jacob Part 1: Context
Historical Background of Jacob
Jacob Part 2: Commentary
Jacob 1
Jacob 2
Jacob 3
Jacob 4
Jacob 5
Excursus: Structuralist Analysis
Jacob 6
Jacob 7
Bibliography
Index
---
---
Praise for Second Witness:
"Gardner not only provides a unique tool for understanding the Book of Mormon as an ancient document written by real, living prophets, but he sets a standard for Latter-day Saint thinking and writing about scripture, providing a model for all who follow. One can only hope that others who write about scripture will see what he has done and imitate it in their own way. . . . No other reference source will prove as thorough and valuable for serious readers of the Book of Mormon." — FARMS Review, Neal A Maxwell Institute for Religious Scholarship

"Second Witness: Analytical & Contextual Commentary on the Book of Mormon by Brant Gardner is the most comprehensive commentary on the Book of Mormon to date. . . . [It is] a watershed event in scholarly LDS publication history." — Blair Hodges, Life on Gold Plates

"If there is any merit to the publication of yet another Book of Mormon commentary, it ought to bring forth information that will be new to readers. It should add perspective to the scriptures. It should cause the reader to go back to the text and re-examine it in a new light. In every way, Gardner's effort does all of this, and more." — Jeffrey Needle, Association for Mormon Letters
---
Other Volumes in this Series:
Second Witness: Volume 1: 1 Nephi
Second Witness: Volume 3: Enos–Mosiah
Second Witness: Volume 4: Alma
Second Witness: Volume 5: Helaman–3 Nephi
Second Witness: Volume 6: 4 Nephi–Moroni
---
About the Author:
Brant Gardner
received an M.A. in anthropology from the State University of New York, Albany, emphasizing Mesoamerican ethnohistory. His research into the Mesoamerican setting of the Book of Mormon has led to publications in the FARMS Review of Books and the online Meridian magazine. He has made several presentations to the annual Foundation for Apologetic Information and Research conference and has also presented at the Book of Mormon Archaeological Forum, Sunstone, and other academic symposia.
---
Podcasts:
An interview with Brant Gardner on the Mormon Stories Podcast.
An interview with Brant Gardner on the Mormon Discussion Podcast.
---
More Information:
Pages: 600
ISBN: 978-1-58958-042-8 (Hardcover)
Published September 2007