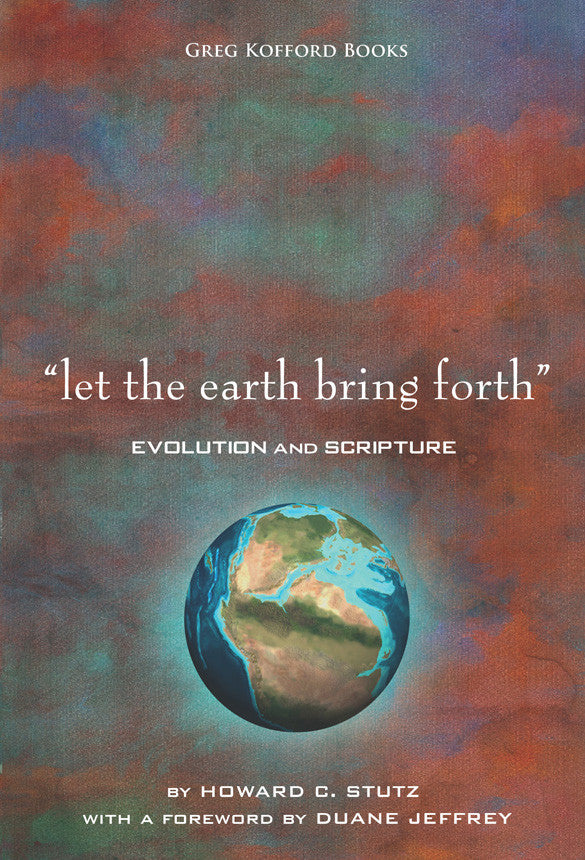 "Let the Earth Bring Forth": Evolution and Scripture
$15.95
By Howard C. Stutz, with a foreword by Duane Jeffrey
---
"This book is truly a gem." — Daniel J. Fairbanks
"This book has changed the way I look at the evolutionary process and has taught me more about how God allowed the earth to bring forth life." — Mark D. Landeen
"Please recommend it to all your friends ." — By Common Consent.
---
Available in ebook for Kindle, Nook, Apple, Google Play, and Kobo.
---
Also available through Amazon.
---
Book Synopsis:

In addition to fascinating examples of speciation by mutation and the lesser-known processes of sexual recombination and polyploidy, Howard Stutz examines the evidence from the embryo stages of human beings and other creatures to show how selection and differentiation moved development in certain favored directions while leaving behind evidence of earlier, discarded developments. With rigorous, scientific clarity—but in language accessible to a popular audience—this book proceeds to its conclusion, reached after a lifetime of study: the divine map of creation is one supported by both scientific evidence and scripture.
---
Comprehensive Table of Contents:
.
Forward by Duane E. Jeffery
Acknowledgments
Introduction
1. "Opposition in All Things"
Phenotypic Plasticity
Genetic Flexibility
2. New Species from Mutations
3. New Species from Sexual Recombination
4. Speciation in Plants by Polyploidy
Autopolyploids
Allopolyploids
5. The Fossil Record
6. Distribution Patterns as Evidence for Evolution
7. Embryological Evidence for Evolution
Embryonic Kidneys
Embryonic Cloaca
Embryonic Hearts
8. Comparative Anatomy as Evidence for Evolution
9. Biochemical Evidence
10. Genetic Evidence
11. The Quest for Truth
12. "And the Lord God Formed Man"
13. Evolution and the Scriptures
Subject Index
Scripture Index
---
---
Praise for Let the Earth Bring Forth:
"Let the Earth Bring Forth is a testimonial of one strong in the faith of Jesus Christ and schooled in the study of God's creations for man. Experts tell us to be logical and not to worry, that evolution is the story of life. But our perception of evolution isn't about logic; it is about dread, magnified by ignorance. Howard Stutz, a remarkable classical biologist and faithful member of the Church of Jesus Christ of Latter-day Saints has added light and understanding to this challenging quest to understand the history of the earth and the divine nature of man." — C. Lorenzo Pope, PhD, Director of Research, Rice Researchers, Inc.

"For more than half a century, evolutionary geneticist and devoted Latter-day Saint Howard Stutz, offered a gentle voice of reason to sooth the tension between evolution and religion. That voice touched the lives of thousands of students, clearing away the clouds of conflict and doubt. I am honored to count myself among those students. As I read this book I heard his voice once again, now memorialized in print. This book is truly a gem." — Daniel J. Fairbanks, Associate Dean of Science & Health, Utah Valley University

"As a student at Brigham Young University, I struggled with the apparent conflict between  the theories I was learning in biology and the traditional views of creation that were being taught in my religion classes. The concepts that Dr. Stutz offers in this book eliminated that conflict. Evolution, as a biological process, is harmonious with scriptural accounts and verifies God's hand all creation.  This book has changed the way I look at the evolutionary process and has taught me more about how God allowed the earth to bring forth life." — Mark D. Landeen, Biologist and public school teacher

"Let the Earth Bring Forth is an excellent little introduction to questions about the compatibility of organic evolution with LDS scripture. It also includes a useful index of the scriptural citations Stutz employs. Please recommend it to all your friends who are among the 78% or so of Mormons who don't accept evolution as 'the best explanation for the origins of human life on earth."— Blair Hodges, By Common Consent.
---
About the Author

: 
Howard C. Stutz, emeritus professor of genetics at Brigham Young University, devoted more than sixty years to the study of genetics and plant evolution. Born in Cardston, Alberta, Canada, in 1918, he received his B.S. (1940) from Brigham Young University, where he was also awarded his M.S. in botany (1954), followed by his Ph.D. in genetics at the University of California, Berkeley (1956). He taught at Brigham Young University for more than thirty years where he received the Karl G. Maeser Award for Teaching Excellence. Other honors include a Guggenheim fellowship for his work in the Middle East, a National Science Foundation grant for his studies in Morocco and Spain, and a Fulbright fellowship for research and teaching at the American University of Beirut. He published more than eighty scientific papers.
     Dr. Stutz served diligently in many Church callings, including as a bishop, high councilor, and stake patriarch. He passed away in 2010 shortly after finishing the manuscript for this book. Let the Earth Bring Forth grows out of his love for the Lord and the wonder and fascination which he exhibits for this magnificent planet created by God.
---
More Information:
Pages: 113
ISBN: 978-1-58958-126-5 (Paperback)
Published July 2011