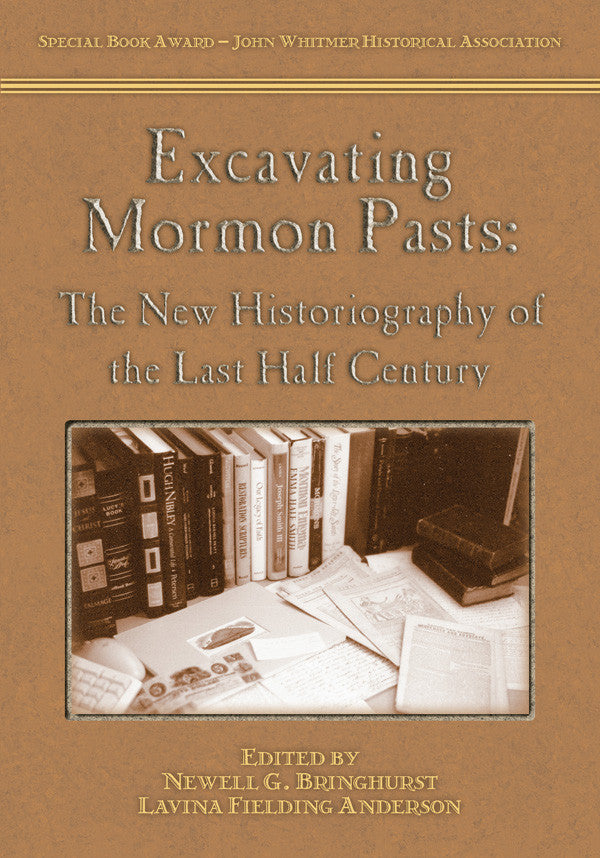 Excavating Mormon Pasts: The New Historiography of the Last Half Century
$31.95
Edited by
Newell C. Bringhurst
and
Lavina Fielding Anderson
---
Winner of the Special Book Award from the John Whitmer Historical Association
---
"A valuable tool in the ongoing quest for clarity, for truth, for certainty."

 — Association for Mormon Letters
---
Available in ebook for Kindle, Nook, Google Play, and Kobo.
---
Also available through Amazon.
---
Book Description:
Excavating Mormon Pasts assembles sixteen knowledgeable scholars from both LDS and the Community of Christ traditions who have long participated skillfully in this dialogue. It presents their insightful and sometimes incisive surveys of where the New Mormon History has come from and which fields remain unexplored. It is both a vital reference work and a stimulating picture of the New Mormon History in the early twenty-first century.
---
Comprehensive Table of Contents:
.
Introduction
1. Mormon History and the Conundrum of Culture: American and Beyond
Postscript
2. The Search for Cultural Origins of Mormon Doctrines
The Burned-Over District
New England Puritanism
The Bible and Christian Primitivism
Magical Worldviews
Conclusion: Not "Laying aside Revelation"
3. Mormon Origins: The Church in New York and Ohio
General Works
Published Primary Sources
Biographical Studies
The Making of a Prophet
The First Vision
Money-Digging and Magic
The Coming Forth of the Book of Mormon
The Mormon Approach to Scripture
The Development of a Mormon Community
The Development of Church Organization and Doctrine
Life Among the Saints
The Mormon Economy
Declension and Movement West
Conclusion
4. The Mormon Experience in Missouri, 1830–39
Jackson County: Building the City of God
A Richer View of Non-Mormons
The Role of Mormon Dissenters
The Danites
Mormon Military Activities
New Interpretations
The Nature of Opposition to Mormonism
Conclusion
5. The Nauvoo Experience
The New Nauvoo
Defining the New History
Earlier Nauvoos
Nauvoo in General Histories.
Political History
Economic History
Social History
Community History
Religious History
A New Synthesis
6. Mormonism on the Frontier: The Saints of the Great Basin
General Works
Brigham Young
Other Mormons
Mormon Migration and Settlement
Mormon Settlements
Economics
The Political Kingdom of God
The Mormon Reformation and the Utah War
Missionary Work and the Mormon Image
Dissenting Movements
Doctrinal Development and Interpretation
Plural Marriage
Women, Children, and Family Structure and Dynamics
Ethnicity and Race
Mormon Architecture
Education and Communication
Conclusion
7. Mormonism in Transition, 1890–1945
LDS Accommodation
Statehood
Post-Manifesto Polygamy and Fundamentalism
Accommodation in the Early Twentieth-Century
War, Depression, and Dissent
The International Church
8. The LDS Church in the United States since 1945
Growth
General Studies
Multiculturalism
Secularism
Education
Political Affairs
Correlation
Finances
Further Research
Conclusion
9. Growth and Internationalization: The LDS Church Since 1945
The Pacific and Australasia
The British Isles
Western Europe
Latin America, General
Mexico and Central America
South America
Asia: General Works
East Asia
Southeast and South Asia
Africa and the Middle East
Eastern Europe
Historiography of Growth and Internationalization
10. Studies of Mormon Fissiparousness: Conflict, Dissent, and Schism in the Early Church
Perspectives on Mormon Fissiparousness
Early Mormon Schisms
The Earliest Dissenters and Schisms
Dissent and Schism in Ohio and Missouri
Schisms of the Nauvoo Church
Fragmentation of the Nauvoo Church
Conclusions
11. "Travelers on the New Mormon History Trail": Community of Christ Contributions to the New Mormon History Movement
Community of Christ Trail-Blazers
Graceland College, Lamoni, Iowa
Following the Trail Blazers
The Writings of Roger D. Launius
The Administrative Biography Series
General Surveys
The Reorganized Church and the Theme of Dissent
Makers of Church Thought Series
General Interest Works
Scholarly Historical Journals and Articles
John Whitmer Historical Association
John Whitmer Historical Association Monograph Series
Academic Capstone Projects
Works in Progress
Conclusion
12. The New Mormon Women's History
Brooks, Brodie, and Arrington
A Mormon Mother
Women in Camelot: Beecher, Derr, and Madsen
Pink Dialogue and Mormon Sisters: Bushman and Ulrich
Mormon Enigma
RLDS Women
Women Writing on Men; Men Writing on Women
Polygamy and Women
"Contemporary" Women's History
Mormon Women's History and the Institutional Church
Diaries and Autobiographies: Critical Editions
Women's History and the New Mormon History
13. Out of the Closet and into the Fire: The New Mormon Historians' Take on Polygamy
Precursors
The Role of the LDS Church Historical Department
The Origins of Mormon Polygamy
Post-Manifesto Polygamy
Biography as a Lens on Polygamy
Regional, Demographic, and Social History
Demographic Studies
Legal History
Theological and Social History
Conclusion
14. Mormon Biography: Paradoxes, Progress, and Continuing Problems
Biographies of Mormon Presidents
Biographies of Other Church Leaders
Lesser Leaders and Rank-and-File Latter-day Saints
Latter-day Saint Women
RLDS Historical Figures
Dissidents and Schismatics
Conclusion
15. Mormon Society and Culture
Community History
Demographic History
Prosopography
Marriage and Family History
High Culture
Other Social-Cultural Topics
Other Local Studies
Social Science
16. Fictional Pasts: Mormon Historical Novels
Mormon Historical Fictions
Connections with the New Mormon History
The Future of Mormon Historical Fiction
Index
---
---
 Praise for Excavating Mormon Pasts:
"[Excavating Mormon Pasts is] a valuable tool in the ongoing quest for clarity, for truth, for certainty. It is one of several volumes I've seen in the past few years that qualify for a 'must have' rating." — Jeffrey Needle, Association for Mormon Letters
---
More Information:
Pages: 456
ISBN: 978-1-58958-115-9 (Paperback)