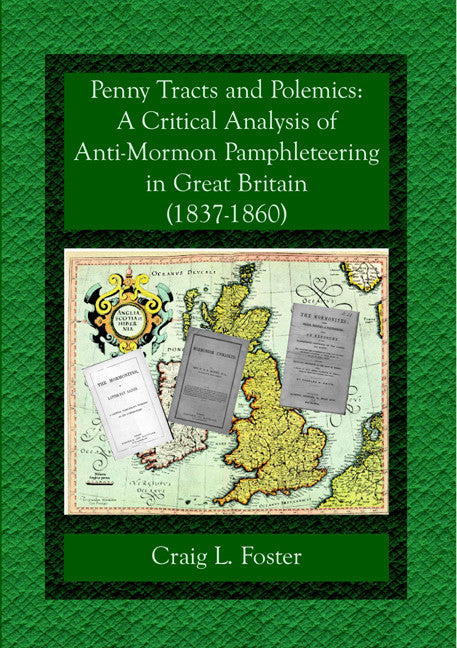 Penny Tracts and Polemics: A Critical Analysis of Anti-Mormon Pamphleteering in Great Britain, 1837–1860
$39.95
by
Craig L. Foster
---
Book Description:
By 1860, Mormonism had enjoyed a presence in Great Britain for over twenty years. Mormon missionaries experienced unprecedented success in conversions and many new converts had left Britain's shores for a new life and a new religion in the far western mountains of the American continent.
     With the success of the Mormons came tales of duplicity, priestcraft, sexual seduction, and uninhibited depravity among the new religious adherents. Thousands of pamphlets were sold or given to the British populace as a way of discouraging people from joining the Mormon Church. Foster places the creation of these English anti-Mormon pamphlets in their historical context. He discusses the authors, the impact of the publications and the Mormon response. With illustrations and detailed bibliography.
---
About the Author: 
Craig L. Foster
earned a B.A. and M.A. in history and an MLIS from Brigham Young University. He works as a research specialist at the Family History Library in Salt Lake City. He resides in Layton with his wife, Suzanne, and their three children, but prefers to be at the family cabin in southern Utah, hiding from the world. When he is not dreaming of another way to get back to the British Isles, Foster is actively involved in several scholarly and heritage organizations. He has published in a number of scholarly journals including 
BYU Studies, Dialogue: A Journal of Mormon Thought, Journal of Mormon History
, and 
Utah Historical Quarterly
.
---
More Information:
260 pages
ISBN: 978-1-58958-005-3 (Hardcover)