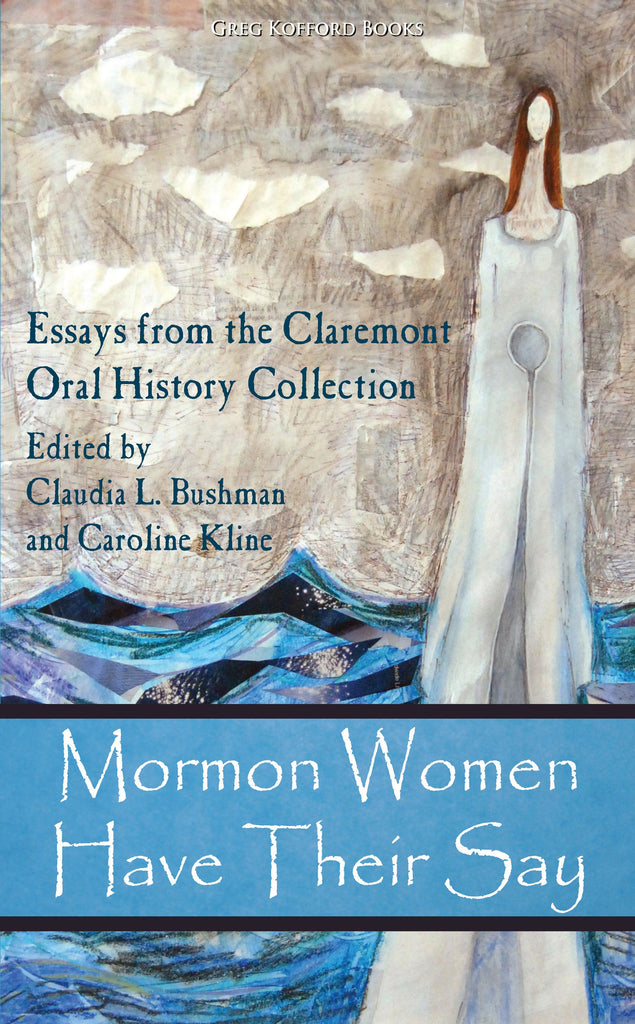 Mormon Women Have Their Say: Essays from the Claremont Oral History Collection
$31.95
Edited by
Claudia L. Bushman
and
Caroline Kline
---
"Essential."

— Joanna Brooks


"The essays in this volume go beyond collecting and preserving to the hard work of interpretation. . . . The authors connect ordinary lives with enduring themes

 in Latter-day Saint faith and history."

— Laurel Thatcher Ulrich

---
Available in ebook for Kindle, Nook, Kobo, Google Play, and Apple.
---
Also available through Amazon.
---
Book Description:
The
Claremont Women's Oral History Project
has collected hundreds of interviews with Mormon women of various ages, experiences, and levels of activity. These interviews record the experiences of these women in their homes and family life, their church life, and their work life, in their roles as homemakers, students, missionaries, career women, single women, converts, and disaffected members. Their stories feed into and illuminate the broader narrative of LDS history and belief, filling in a large gap in Mormon history that has often neglected the lived experiences of women. This project preserves and perpetuates their voices and memories, allowing them to say share what has too often been left unspoken. The silent majority speaks in these records.
     This volume is the first to explore the riches of the collection in print. A group of young scholars and others have used the interviews to better understand what Mormonism means to these women and what women mean for Mormonism. They explore those interviews through the lenses of history, doctrine, mythology, feminist theory, personal experience, and current events to help us understand what these women have to say about their own faith and lives.
     For more information on the Claremont Mormon Women's Oral History Project go to 
https://www.mormonwomenohp.org/
---
Comprehensive Table of Contents:
.
Foreword
Introduction
Acknowledgments
Part One, Life Cycle
1. Self and Other
Self-Sacrifice
Moving Away from the Self-Sacrifice Paradigm
Embracing the Whole Self
Conclusion
2. Fertility
Generational Attitudes: The Early Years
Reproductive Choice and the Ability to Care for Children
Conflicting Messages
Personal Choice and Partnership with God
Miscarriage
Infertility
Conclusion
3. Singlehood
Widowed
Divorced
Never-Married
Toward Flexibility
The Teachings of Chieko Okazaki
Conclusion
4. Motherhood
Eve and Role Models
Don't Think for Me—Trust Me to do the Right Thing
When is the Grass Greener?
Mothers and Their Daughters
Father and Mother Know Best
Where Are We Now?
5. Adversity
Death and Illness
Crises of Faith, Identity, Disaffection and Abuse
Part Two, Life as a Latter-day Saint
6. Womanliness
The Physical (Action-Oriented) Attributes of Mormon Womanhood
The Spiritual Attributes of Mormon Womanhood
Conclusion
7. Callings
8. Revelation
Conversations with God
Agency
Women's Lives
Trusting Self, Trusting Others
Conclusion
9. Missions
The Evangelizing Responsibilities of Mormon Women
Evangelizing the Broader Community
Full-time Missionary Services
Mormon Women as Full-time Missionaries
LDS Female Missionary Service, a Tradition of Optionality
Varieties of Female Missionary Experience
Missionary Children
Recipes for Success
A Source of Anxiety: Children Outside the Missionary Pattern
Conclusion
Part Three, Relationships with the Institutional Church
10. Agency
Introduction
Agency
Reconceptualizing Agency
Latter-day Saint Agency
Ethnographic Particularities
Practicing Agency
Authorizing Agency
11. Patriarchy
Internal Conceptions of Men's Priesthood Roles and Women's Roles
External Action When Disagreeing With Male Leadership
Conclusion
12. Relief Society
What Daughters in My Kingdom Reveals about the LDS Relief Society of Today
Chapter 8 "Blessings of the Priesthood for All: An Inseparable Connection with the Priesthood"
Chapter 9 "Guardians of the Hearth": Establishing, Nurturing and Defending the Family
13. Heavenly Mother
General Patterns in the Oral Histories
Patterns Unique to Mormonism
Attitudes toward Heavenly Mother
Conclusion
14. Proposition 8
Background on Defense of Marriage Propositions
Respondents from Oral Histories
Neither Yes Nor No on Prop 8
Final Words
Contributors
Further Reading
Index
---
---
Praise for Mormon Women Have Their Say:
"Mormon women have always had a lot to say, but generation after generation, their voices fade away. The problem is not just that archives and manuals favor the writings of male leaders. The real problem is that few of us know how to listen to seemingly common stories. We revere our sisters but don't understand them. The essays in this volume go beyond collecting and preserving to the hard work of interpretation. Using a variety of analytical techniques and their own savvy, the authors

connect ordinary lives with enduring themes

in Latter-day Saint faith and history." — Laurel Thatcher Ulrich, author of Well-Behaved Women Seldom Make History
"

Essential

. Since the 19th century, Mormon women have been stereotyped as voiceless victims of our own faith. This book and the larger oral history project it represents amplify the steady, thoughtful, articulate voices of everyday Mormon women as we actually are, weighing in on issues that truly matter: belief, authority, service, family, personal revelation, work, and gender. Caroline Kline and Claudia Bushman have done a major and necessary service for Mormon Studies. In these pages, Mormon women will find ourselves." — Joanna Brooks, author of The Book of Mormon Girl: A Memoir of an American Faith
"This book is both a product and a celebration of the important project on women's oral histories inaugurated by Claudia Bushman at Claremont Graduate University. However, these essays are not merely transcripts of various interviews. Rather, they are insightful and interpretive essays illustrating major themes recurring in these oral histories. The varieties of women's responses to the major issues in their lives will provide many surprises for the reader, who

will be struck by how many different ways there are to be a thoughtful and faithful Latter-day Saint woman

." — Armand Mauss, author of All Abraham's Children: Changing Mormon Conceptions of Race and Lineage
"

I'd recommend this book to anyone

who plans on doing academic work on 20th or 21st century LDS women or LDS Church teachings about women. I'd recommend it for anyone with a personal interest in those topics. . . . And if your book group picks this, you will not lack for interesting items to discuss." — Julie M. Smith, Times and Seasons
---
Contributors:
Claudia L. Bushman
Caroline Kline
Tammi Schneider (foreword)
Sherrie L. M. Gavin
Elizabeth J. Mott
Allison Keeney
Susan Woster
Pamela Lindsay Everson
Susan Robison
Lisa Thomas Clayton
Elisa Eastwood Pulido
Amy Hoyt
Taunalyn Ford Rutherford
David Golding
Anna Terry Rolapp
---
Podcasts:
An interview with Claudia Bushman on the
Mormon Discussions Podcast
.
An interview with Caroline Kline on the
Mormon Discussions Podcast
.
Claudia Bushman and Caroline Kline on the
Mormon Matters Podcast
.
Claudia Bushman and Caroline Kline on the
Feminist Mormon Housewives Podcast
.
---
More Information:
334 pages
ISBN: 978-1-58958-494-5 (paperback)
Published March 2013