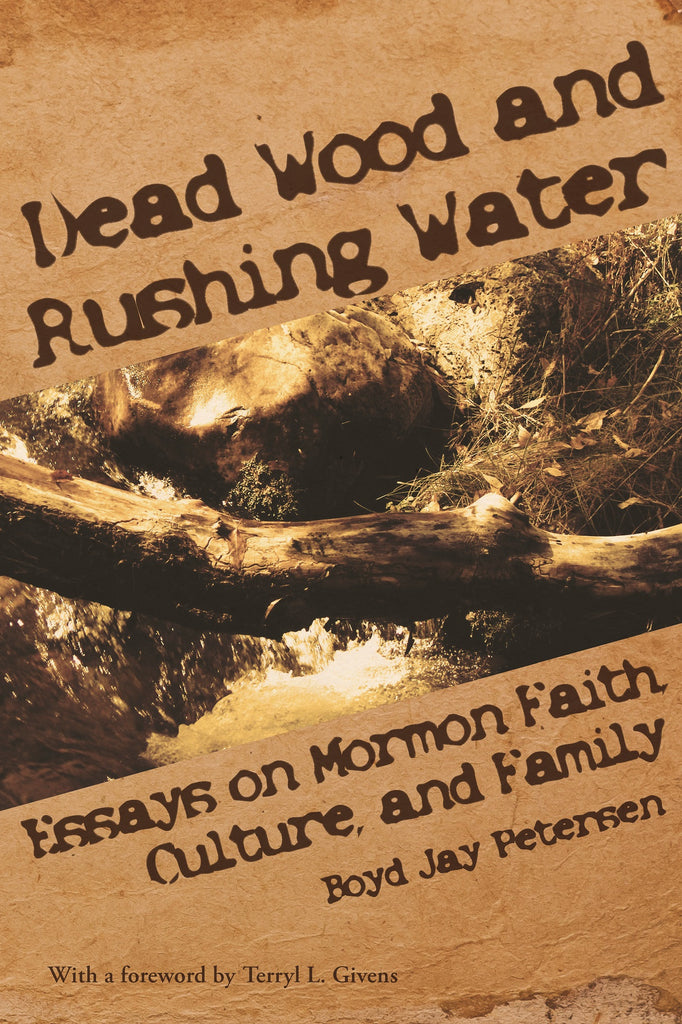 Dead Wood and Rushing Water: Essays on Mormon Faith, Culture, and Family
$22.95
By
Boyd Jay Petersen
---
"Thoughtful and well-crafted ." — Jana Riess
"Invites us all to ponder anew the verities we hold, sharing in his humility, tentativeness, and cheerful confidence that our paths will converge in the end." — Terryl. L. Givens
"A fine collection, deserving of a reader's time and money." — Association for Mormon Letters
"This book is a rare treasure among modern Mormon thought." — Nauvoo Times
"Petersen should be considered among the preeminent essayists of this moment in Mormon history." — BYU Studies Quarterly
---
Available in ebook for Kindle, Nook, Kobo, Google Play, and Apple. 
---
Also available through Amazon.
---
Book Description:
For over a decade, Boyd Petersen has been an active voice in Mormon studies and thought. In essays that steer a course between apologetics and criticism, striving for the balance of what Eugene England once called the "radical middle," he explores various aspects of Mormon life and culture—from the Dream Mine near Salem, Utah, to the challenges that Latter-day Saints of the millennial generation face today.
---
Comprehensive Table of Contents:
.
Acknowledgments
Foreword
Introduction: The Afterlife of Trees and the Roar of Rushing Water
1. Yearnings of Joy
2. An Acceptable Offering
3. Walking through the Dream Mine
4. Soulcraft 101: Faith, Doubt, and the Process of Education
5. LDS Youth in an Age of Transition
6. An Imperfect Brightness of Hope
7. Arriving Where I Started: Disassembling and Reassembling a Testimony
8. Entertaining Angels
9. In My Father's House
10. The Mystery of the Gold Plates: The Origins of the Book of Mormon and a Life of Faith
11. Escape from Groundhog Day: Mormon Literary Creation and the Cycle of the Eternal Return
12. The Morality of Politics: The Challenges of Mormon Tribalism
13. Mormonism and Torture: Paradoxes and First Principles
14. Glenn Beck, Social Justice, and the Morality of Government Intervention
15. A Walk in Blue-State Moccasins: Imagining Life as a Utah Mormon
Democrat
The Walk
16. Hugh Nibley and the "Inmigration" of Mormon Education
Shaped by Outside
Deeply Mormon
17. The Priesthood: Men's Last, Best Hope
18. Fifteen Years Later: A Response to "The Priesthood: Men's Last, Best Hope"
19. Pink for Boys and Blue for Girls: The Trouble with Gender Roles
20. What I Learned about Life, the Church, and the Cosmos from Hugh Nibley
21. What I Learned from my Father
22. What I Learned from my Mother
Afterword: Living Water and the Wood of the Cross
---
---
Praise for Dead Wood and Rushing Water:
"Dead Wood and Rushing Water gives us a reflective, striving, wise soul ruminating on his world. In the tradition of Eugene England, Petersen examines everything in his Mormon life from the gold plates to missions to dream mines to doubt and on to Glenn Beck, Hugh Nibley, and gender. It is a book I had trouble putting down." — Richard L. Bushman, author of Joseph Smith: Rough Stone Rolling

"Boyd Petersen is correct when he says that Mormons have a deep hunger for personal stories—at least when they are as thoughtful and well-crafted as the ones he shares in this collection." — Jana Riess, author of The Twible and Flunking Sainthood

"Petersen's book provides a road map to the contemporary minds and concerns of the LDS intellectual. Always thoughtful and interesting, gracefully written and significant, these essays will encourage many other thinkers to get their thoughts down." — Claudia L. Bushman, co-editor of Mormon Women Have Their Say

"Boyd Petersen invites us all to ponder anew the verities we hold, sharing in his humility, tentativeness, and cheerful confidence that our paths will converge in the end." — Terryl. L. Givens, author of People of Paradox: A History of Mormon Culture

"Boyd Petersen models the courage of a true seeker: the bravery to take on life as a journey to be savored. These essays prove the wisdom of giving time and life and imagination the chance to do their sorting." — Dan Wotherspoon, host of Mormon Matters podcast

"Petersen's essays speak in the voice of the best kind of friend—the one whose company is warm and familiar and comfortable, but who still manages to surprise you, make you laugh at unexpected moments, and show you new ways to think about everything you thought you knew." — Kristine Haglund, editor of Dialogue: A Journal of Mormon Thought

"Dead Wood and Rushing Water: Essays on Mormon Faith, Culture, and Family left me wanting to hang out with its author, Boyd Jay Petersen, maybe have dinner and enjoy conversation that stretched long into the night. Not only did the essays in this volume spark new thoughts and invigorate old ones, it kindled feelings of friendship for a fellow Saint who is as much like me as he is unlike me. I suppose, when we are talking about a volume of personal essays, that strike of personal connection between author and reader is the surest sign of success. . . . [It] is a fine collection, deserving of a reader's time and money." — Lisa Torcasso Downing, Association for Mormon Letters

"Boyd Jay Petersen's Dead Wood and Rushing Water is a breath of fresh air among LDS-authored books. . . . This book is a rare treasure among modern Mormon thought." — Laurie Williams Sowby, Nauvoo Times

"Petersen should be considered among the preeminent essayists of this moment in Mormon history." — Mark Brown, BYU Studies Quarterly
---
---
Podcasts:
Boyd Petersen is interviewed for the A Thoughtful Faith Podcast.
---
About the Author:
Boyd Jay Petersen teaches English and religious studies at Utah Valley University. He is the biographer of Hugh Nibley (Hugh Nibley: A Consecrated Life—winner of the Mormon History Association's Best Biography Award), was awarded the adjunct faculty excellence award from UVU in 2006, and completed his PhD in comparative literature at the University of Utah in 2007. He currently serves as both the editor for Dialogue: A Journal of Mormon Thought and the program coordinator for Mormon Studies at UVU. He and his wife Zina are the parents of four children and make their home in Provo, Utah.
---
More Information:
248 pages
ISBN 978-1-58958-658-1 (Paperback)
Published October 2013