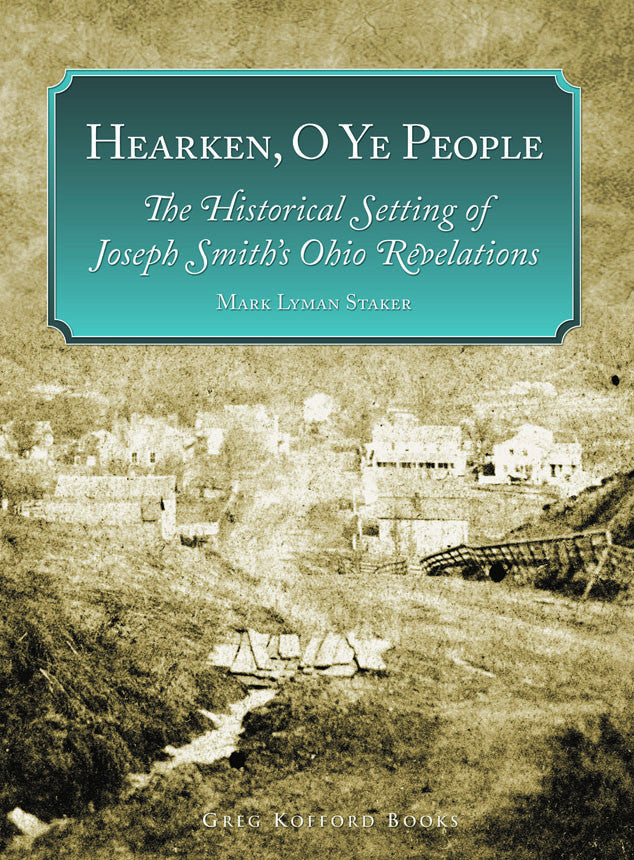 Hearken, O Ye People: The Historical Setting of Joseph Smith's Ohio Revelations
$34.95
By
Mark Lyman Staker
---
Best Book Award

— Mormon History Association


Best Book Award

— John Whitmer Historical Association


"Sets a new standard of in-depth research in Latter-day Saint history."

— Richard Bushman
---

Available in ebook for Kindle, Nook, Apple, Google Play, and Kobo.
---
Book Description:
More of Mormonism's canonized revelations originated in or near Kirtland than any other place. Yet many of the events connected with those revelations and their 1830s historical context have faded over time.Barely twenty-five years after the first of these Ohio revelations, Brigham Young lamented in 1856: "These revelations, after a lapse of years, become mystified [sic] to those who were not personally acquainted with the circumstances at the time they were given." He gloomily predicted that eventually the revelations "may be as mysterious to our children . . . as the revelations contained in the Old and New Testaments are to this generation." Now, more than 150 years later, the distance between what Brigham Young and his Kirtland contemporaries considered common knowledge and our understanding of the same material today has widened into a sometimes daunting gap.
     Mark Staker narrows the chasm in 
Hearken, O Ye People
 by reconstructing the cultural experiences by which Kirtland's Latter-day Saints made sense of the revelations Joseph Smith pronounced. This volume rebuilds that exciting decade using clues from numerous archives, privately held records, museum collections, and even the soil where early members planted corn and homes. From this vast array of sources he shapes a detailed narrative of weather, religious backgrounds, dialect differences, race relations, theological discussions, food preparation, frontier violence, astronomical phenomena, and myriad daily customs of nineteenth-century life. The result is a "from the ground up" experience that today's Latter-day Saints can all but walk into and touch.
---
Comprehensive Table of Contents:
.
Foreword
Preface and Acknowledgments
A Selective Chronology of Significant Events in Ohio's LDS History
Prologue
Part One: Ohio's "Mormonites"
Introduction
1. Black Pete
2. The Shout Tradition and Speaking in Tongues in the Black Community
3. Barton Stone, Alexander Campbell, and the Foundations of Black Pete's Religious Involvement in Ohio
4. Freedom and Authority
5. Owenites and the Morley Community
6. The Morley Family in Kirtland
7. The Book of Mormon Comes to Ohio
8. Black Pete and Early Mormonite Religious Enthusiasm
A New Religious Community in Kirtland
Religious Enthusiasm in Kirtland
Parallels with Slave Experience
Acting Out the Book of Mormon
9. Dissension in Ohio's Mormonite Family
10. The Law of the Church
Adultery, Marriage, and Polygamy
The Laura Hubbell Incident
11. Joseph Smith and the Gifts of the Spirit
Joseph Smith's Exposure to African Americans
Joseph Smith and Religious Enthusiasm
Ecstatic Experiences in Kirtland
12. The June Conference and Authority to Discern Religious Ecstasy
Campbellite Beliefs on Priesthood
New Mormonite Understandings of Priesthood
Priesthood and Authority
Discerning Gifts of the Spirit
13. A New Understanding of the Gift of Tongues in Kirtland and Missouri
Suppression and Reintroduction of Tongues
Abolitionism and Mormonism
W. W. Phelps's Influence as Publisher
The National Scene
Part Two: Consecration
Introduction
14. Becoming a Businessman
15. Sidney Gilbert as an Independent Entrepreneur
16. N. K. Whitney & Co.
The Whitneys' Religious Involvement in Kirtland
17. The Whitneys and the Mormonite Community
Joseph and Emma Smith at the Whitney Home
Consecration: "The United Firm of N K Whitney &c"
18. Kirtland's Bishop
19. At the Whitney Store
Troubles in Kirtland
The End of the N. K. Whitney & Co. Property in Kirtland
Part Three: "It Came from God": The Johnson Family, Joseph Smith, and Mormonism in Hiram, Ohio
Introduction
20. From Vermont to Ohio
Johnson Roots and Their Move to Hiram
21. Hiram Township in Portage County
22. Ezra Booth and the Johnson Family's Religious Background
Johnson Family Life before Mormonism
Elsa Johnson's Healing
Ezra Booth as Mormon Preacher
Symonds Ryder's Conversion
23. The Apostasy of Ezra Booth and Symonds Ryder
The Misspelled Name
Ryder's Letter
Ezra Booth's Letters
Effects of the Ryder/Booth Defections
Ezra Booth and Joseph's Prophetic Warning
24. Joseph Smith at the Johnson Home
25. The Vision
26. Reactions to "The Vision"
27. The Mobbing of Joseph Smith and Sidney Rigdon
The Mob's Preparations
The Attacks
Reprieve and Recovery
Aftermath
Appendix: The Mob's Entry Point on March 24, 1832
28. Last Days in Hiram
Joseph's Return to Hiram
Later History of the Mob Members
29. The Johnson Family's Epilogue
Part Four: Kirtland's Economy and the Rise and Fall of the Kirtland Safety Society
Introduction
30. The Foundation of Kirtland's Economy
31. The Means to Build a House of God
Building a House of God
Starting Construction
The Means to Build
Joel Hills Johnson and the "Mormon Sawmill"
The Kirtland Schoolhouse and Administrative Office
The Response of Azariah Lyman and Austin Loud
32. A Plan to Get Out of Debt
33. The Kirtland Safety Society
34. The End of Kirtland's Banking Experiment
Explaining Failure
35. Epilogue
Appendix: Nine Sermons by George A. Smith and Brigham Young in November 1864 on Church History
Introduction
George A. Smith: November 12, 1864, Kays Ward
Brigham Young: Sermon, November 12, 1864, Kays Ward
Brigham Young: Two Sermons, November 13, 1864, Kays Ward
George A. Smith: Sermon, November 13, 1864, Kays Ward
George A. Smith: Sermon, November 14, 1864, Ogden
Brigham Young: Sermon, November 14, 1864, Ogden
Brigham Young: Sermon, November 15, 1864, Ogden Tabernacle
George A. Smith: Sermon, November 15, 1864, Ogden Tabernacle
Bibliography
Index
---
---
Praise for Hearken, O Ye People:
"I am not aware of a more deeply researched and richly contextualized study of any period of Mormon church history than Mark Staker's study of Mormons in Ohio. We learn about everything from the details of Alexander Campbell's views on priesthood authority to the road conditions and weather on the four Lamanite missionaries' journey from New York to Ohio. All the Ohio revelations and even the First Vision are made to pulse with new meaning.

This book sets a new standard of in-depth research in Latter-day Saint history

." — Richard Bushman, author of Joseph Smith: Rough Stone Rolling
"To be well-informed, any student of Latter-day Saint history and doctrine must now be acquainted with the remarkable research of Mark Staker on the important history of the church in the Kirtland, Ohio, area." — George L. Mitton, Neal A. Maxwell Institute for Religious Scholarship
"Hearken O Ye People will be both a necessary starting point and immensely helpful reference tool for anyone interested in the Kirtland era of the LDS Church." — Ben Park, Juvenile Instructor
"I must say I find Hearken, O Ye People to be a work of great worth. Although the text reads well, the magnitude of the subject will require several readings before one gets the full effect.

Author Mark Lyman Staker deserves all the accolades he has or will receive.

" — Roy Schmidt,Association for Mormon Letters
"Hearken, O Ye People: The Historical Setting of Joseph Smith's Ohio Revelations is a long-overdue reexamination of Mormonism's development during the Kirtland era and the major players in that development. . . . Historians seeking to understand the development of Mormon doctrine and practices during this era would be well advised to consult this book." — Matthew C. Godfrey, volume editor, Joseph Smith Papers, LDS Church Historical Department, Mormon Historical Studies
---
About the Author:
Mark Lyman Staker (Ph.D., Cultural anthropology, University of Florida) began work as curator of the Museum of Church History and Art in Salt Lake City in 1993. For more than twelve years Mark has been involved in historic sites restoration and nineteenth-century expressions of the Latter-day Saint experience. He received the J. Talmage Jones Award of Excellence for an Outstanding Article on Mormon History from the Mormon History Association and has been involved in numerous museum exhibits. He and his wife, Kimberly L. Staker, are the parents of seven children and live in West Bountiful, Utah.
---
Podcasts and Video:
---
More Information:
736 Pages
ISBN 978-1-58958-113-5 (Hardcover)
Published July 2008