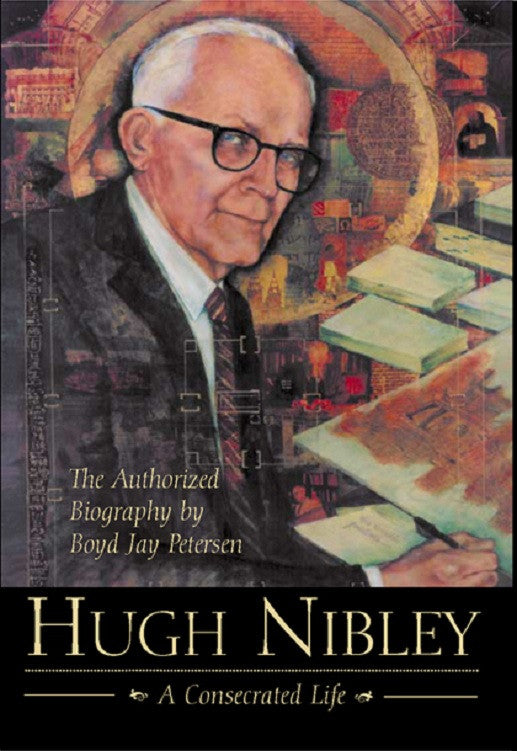 Hugh Nibley: A Consecrated Life
$32.95
by
Boyd Jay Petersen
---
"Delightfully accessible and full of the scholar's delicious wordplay and wit."

—

 

Publishers Weekly


"A must-have for anyone struggling to reconcile faith and reason."

— Association for Mormon Letters

---
2003 Best Biography Award, Mormon History Association
---
Available in ebook for Kindle, Nook, Apple, Google Play, and Kobo.
---
Book Description:
As one of the LDS Church's most widely recognized scholars, Hugh Nibley is both an icon and an enigma. Through complete access to Nibley's correspondence, journals, notes, and papers, Petersen has painted a portrait that reveals the man behind the legend.
     Starting with a foreword written by Zina Nibley Petersen and finishing with appendices that include some of the best of Nibley's personal correspondence, the biography reveals aspects of the tapestry of the life of one who has truly consecrated his life to the service of the Lord.
---
Comprehensive Table of Contents:
.
Preface
Foreword
Introduction: The Man and the Legend
1. A Scottish Heritage, 1810–1930
2. Early Life in Oregon, 1910–21
3. "Speaking in a Prophetic Vein": Hugh Nibley as Social Critic
The Last Days
A Life of Social Criticism
Commitment to the Church
Hugh's Effectiveness as a Social Critic
4. Growing Up in Los Angeles, 1921–27
5. A Voice for the Wilderness: Hugh Nibley, Naturalist
Hugh Nibley's Relationship to Wilderness
Hugh Nibley's Theology of Environmentalism
6. A Mission to Germany, 1927–30
7. Taking Himself Lightly: The Wit of Hugh Nibley
8. Higher Education, 1930–38
9. "One Peep at the Other Side": Hugh Nibley's Life of Faith
10. Teaching at Claremont, 1938–42
11. "The Clown of the Professions": Hugh Nibley and Scholarship
12. Army "Intelligence," 1942–43
13. War in Europe, 1944–45
14. "The Work of Death": Hugh Nibley and War
15. Brodie and BYU, Nuptials and Newborns, 1945–50
16. "Something to Move Mountains": Hugh Nibley and the Book of Mormon
Hugh Nibley's Life with the Book of Mormon
The Book of Mormon as a Middle Eastern Book
The Book of Mormon as Witness of Joseph Smith's Calling
The Book of Mormon as Prophecy for Our Day
17. Poor-Man's Plato and Paterfamilias, 1950–59
18. The Home Dance: Hugh Nibley Among the Hopi
19. Fighting Academic Battles and Gaining the Brethren's Trust, 1959–69
20. "The Book That Answers All the Questions": Hugh Nibley and the Pearl of Great Price
21. Politics, Basketball, Patriarchs, and Temples, 1970–79
22. "The Source of All Good Things": Hugh Nibley and the Temple
23. Consecration and Recognition, 1980–89
24. "Joy Lies in Another Direction": Hugh Nibley's Call to Leave Babylon and Build Zion
25. One Eternal Round, 1990–Present
26. Conclusion: Constancy Amid Change
Appendix A: A Chronology of the Life of Hugh Winder Nibley
Appendix B: Genealogy of Hugh Winder Nibley
Appendix C: Letter from the Front, 1945
Appendix D: Letter to Sterling M. McMurrin, 23 August 1967
Appendix E: Shalamar
---
---
 Praise for Hugh Nibley: A Consecrated Life:
"Hugh Nibley is generally touted as one of Mormonism's greatest minds and perhaps its most prolific scholarly apologist. Just as hefty as some of Nibley's largest tomes, this authorized biography is

delightfully accessible and full of the scholar's delicious wordplay and wit

, not to mention some astonishing war stories and insights into Nibley's phenomenal acquisition of languages. Introduced by a personable foreword from the author's wife (who is Nibley's daughter), the book is written with enthusiasm, respect and insight. . . . On the whole, Petersen is a careful scholar who provides helpful historical context. . . . This project is far from hagiography. It fills an important gap in LDS history and will appeal to a wide Mormon audience." — Publishers Weekly
"Well written and thoroughly researched, Petersen's biography is a must-have for anyone struggling to reconcile faith and reason." — Greg Taggart, Association for Mormon Letters
"Peterson gives us due access to the man behind the scholarship (a scholarly biography now begs to be written), a man as real as any of us, though greatly more gifted; one who excelled in learning and teaching the gospel—an exemplary consecrated life." — Don Norton, Maxwell Institute, FARMS Review
---
Podcasts:
Boyd Petersen discusses Hugh Nibley on the
Mormon Matters Podcast
.
---
About the Author:
Boyd Jay Petersen teaches English and religious studies at Utah Valley University and Brigham Young University. He is the author of Dead Wood and Rushing Water: Essays on Mormon Faith, Family, and Culture, was awarded the adjunct faculty excellence award from UVU in 2006, and completed his PhD in comparative literature at the University of Utah in 2007. He currently serves as the program coordinator for Mormon Studies at UVU, book review editor for the Journal of Mormon History, and is a past president of the Association for Mormon Letters.
---
More Information:
Pages: 478
ISBN: 978-1-58958-020-6 (Hardcover)
Published in 2002