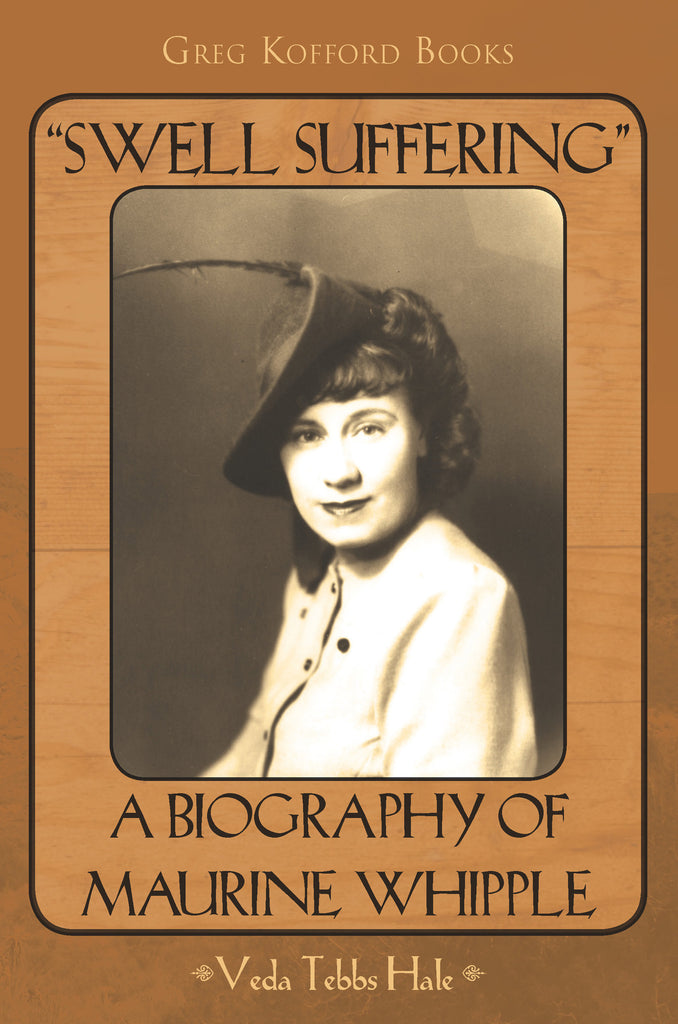 "Swell Suffering": A Biography of Maurine Whipple
$31.95
By Veda Tebbs Hale
---
2012 Best Biography Award, Mormon History Association
---
"A lucid, carefully documented account." — Levi S. Peterson
"This is a 'must read' for anyone interested in the history of the struggle Mormons have had to create good literature." — Association for Mormon Letters
"A wonderful, if emotionally taxing, biography of a fascinating Mormon author." — Association for Mormon Letters
"This is a Cinderella story, heavy on the ashes." — Utah Historical Quarterly
"A splendid biography ." — Gary Topping, Mormon Historical Studies
---
Available in ebook for Kindle, Nook, Apple, Google Play, and Kobo.
---
Also available through Amazon.
---
Book Synopsis:
Maurine Whipple, author of what some critics consider Mormonism greatest novel, 
The Giant Joshua
, is an enigma. Her prize-winning novel has never been out of print, and its portrayal of the founding of St. George draws on her own family history to produce its unforgettable and candid portrait of plural marriage's challenges along with its winsome, gallant, and sparkling heroine Clory McIntyre.
     Yet Maurine's life is full of contradictions and unanswered questions. Why did she never finish her projected trilogy after writing what she considered to be its first volume? Why, when she considered herself an outcast from St. George society, did she never leave it for longer than a few months? What happened to her dreams of romantic love, marriage, and a family? Given the on-going popularity of 
The Giant Joshua
 and at least three attempts to put the story on the screen, why has a movie never been made? For extended periods of her life, she was paralyzed by personal suffering, yet did her greatest creative achievement emerge from that pain?
     Veda Tebbs Hale, a personal friend of the paradoxical novelist, answers these questions with sympathy and tact, nailing each insight down with thorough research in Whipple's vast but under-utilized collected papers. By her mastery of Whipple's letters, diaries, exhaustive oral histories, and draft after draft of unrealized dreams, Veda Hale bring a novelist's life into focus. Exasperating, dazzlingly creative, courageous, brave, frequently misguided, Maurine Whipple emerges in this biography as an unforgettable character in her own right.
---
Comprehensive Table of Contents:
.
Foreword
Prologue
The Whipple Papers
Acknowledgments
1. Cinderella—Ashes and All
2. St. George Childhood
3. The University of Utah, 1922–26
4. In and out of the Classroom, 1926–32
5. The Devastating Romances of 1932–37
6. The Pivotal Moment, 1937
7. Winning the Fellowship
8. Achievement and Complications at Yaddo
9. The Push to Finish
10. Publication : A Flash of Fame
11. "A Heart Turned Inside Out, " 1941
12. Doing Her Bit for the War: 1942–43
13. Another Long Shot at Love, 1943
14. This Is the Place: Utah
15. Two Suffering Souls
16. The Failed Sequel, 1946–47
17. Utah Centennial, 1947
18. Detour into Magazine Writing, 1948
19. "Anybody's Gold Mine": 1949
20. Flirting with Collier's, 1951–52
21. "Grand Ideas": 1954–60
22. Charlie Steen, 1962–66
23. Easter Pageant, 1963–75
24. Maurine Versus St. George, 1965–75
25. The 1970s: Flickerings of Potential Flames
26. A Small Hold on Hope
27. An Unraveling Life

Postscript
Index
---
---
Praise for Swell Suffering:
"Veda Hale has brought to life a little known but seminal LDS writer. She adds new layers of understanding to the story of Maureen Whipple who wrote the epic story of St. George pioneer Mormonism, published in 1941, in response to 'whispers from the red dust.' Hale depicts Whipple's dual nature: even as she suffered a life of deprivation, hypochondria, repeated disappointment and desperate neediness, she assumed the mantle of the true interpreter of her tradition. She fashioned the large story of Mormon commitment and got it just about right." — Claudia L. Bushman, Claremont Graduate University, co-editor of Mormon Women Have Their Say: Essays from the Claremont Oral History Collection

"Writing a lucid, carefully documented account, Hale achieves an admirable balance of compassion and objectivity toward an author who seemed fated to offend those who offered to love or befriend her. . . . Whipple emerges as chaotic, self-pitying, and prone to illness and accidents yet withal passionate and possessed of a grand vision of how fiction should present the history of Mormonism and polygamy. Readers of this biography will be reminded that Whipple was a full peer of such Utah writers as Virginia Sorensen, Fawn Brodie, and Juanita Brooks, all of whom achieved national fame for their literary and historical works during the mid-twentieth century." — Levi S. Peterson, author of The Backslider and Juanita Brooks: Mormon Historian

"This is a 'must read' for anyone interested in the history of the struggle Mormons have had to create good literature. If it is true that 'religion' and 'literature' do not mix, Maurine's life is a perfect example of this phenomenon. Yet there are still some of us who will not give up easily." — Marilyn Brown, Association for Mormon Letters.

"[Hale's] unique biographical voice helps bring Maurine's story—a story of triumph, heart-ache, and crawling courage—to life. This is a wonderful, if emotionally taxing, biography of a fascinating Mormon author." — Blair Hodges, Association for Mormon Letters

"This is a Cinderella story, heavy on the ashes. . . . Hale depends heavily on many of Whipple's surviving letter drafts. She does an admirable job of analyzing and documenting the available information. The human being Hale portrays here will ring true to the old-timers of St. George who knew Maurine Whipple. And Hale's painstaking research will help them begin to understand the eccentricities they saw in the woman who lived out the remainder of her life beneath the vermilion cliffs she so dearly loved." – Lyman Hafen, Utah Historical Quarterly

"Veda Tebbs Hale has given us a splendid biography of a very unpleasant person. . .Hale steers a sure course between Whipple's immense literary talent on the one side and her whining self-justifications, manipulations, and scapegoating on the other." — Gary Topping, Mormon Historical Studies
---
About the Author:
Veda Tebbs Hale grew up in Panguitch, Utah, the descendant of Henrie, Tebbs, Asay, Riding, Prince, Schow, and Lee ancestors who were among the first settlers in southern Utah, including St. George during the period covered by Maurine Whipple's 
The Giant Joshua
. Veda had been deeply moved by her first reading of the St. George saga and returned to it repeatedly.
     Veda and her husband, Glen, raised their three sons in Murray, Utah, and then at a cattle ranch in Kamas, Utah. In 1990, they moved to St. George where Glen managed Central Storage, and they owned and operated a mailing service business until 2000.
     Surprised to discover that Maurine was still alive, Veda befriended the elderly novelist and Carol Jensen, Maurine's legal guardian, and soon decided to write a full-scale biography. Veda conducted informal interviews with the writer, relatives, and associates, explored deeply in Maurine's papers held at Brigham Young University, and painstakingly reconstructed the national and regional background of Maurine Whipple's life.
     Veda, a painter, and glen spend summers at their dream log cabin on the Tebbs family ranch near Panguitch Lake and market Veda's art in her gallery in downtown Panguitch. Their winters are spent in Pleasant Grove, Utah, near their family. She is the author of a novel, 
The Ragged Circle
 (Springville, Utah: Salt Press, an imprint of Cedar Fort Inc., 2003).
---
More Information:
471 pages
ISBN: 978-1-58958-124-1 (Paperback)
ISBN: 978-1-58958-122-7 (Hardcover)
Published May 2011